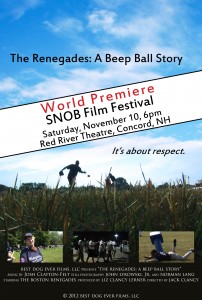 On Saturday, November 10th, a feature length documentary about the Boston Renegades called "The Renegades: A Beep Ball Story" will be having its World Premiere at the SNOB Film Festival in Concord, New Hampshire. The show is scheduled to start at 6:00 pm. You can get information about the event on their web site or purchase tickets here.
There will be future showings of this movie in the Boston area and we hope to have those dates to you by mid November if possible.
This movie is produced by Best Ever Dog Films and the father/daughter tandem of Jack Clancy and Liz Clancy Lerner. The film follows the Renegades primarily for the 2005 season but catches looks in at us as we grow over the following few years. It follows the Renegades as we play tournaments throughout the US culminating with a World Series in Houston. Each player has a story to tell about their blindness. Can a particular player make the team? Will another player finally score his first run in 7 years? Can a female player compete? Can Boston finally beat New York after years of futility? Will the Renegades win the World Series? Are they playing to win or just playing to play? It's not just a sports movie, it's a dynamic emotional roller coaster.
We hope that our fans, friends and family will join us for a showing of this film and get a deeper appreciation for the hard work, sweat and tears that go into what we know as the Renegade experience!