As we approach the new year and the 2019 season, I always find it fun to look back at the top moments of the season.  So many of our fans are unable to see all of our games because they are often played in the day time when you are all working.  This is a way for me to share some of the incredible events of the year.  It's also a great way to document our team history which believe it or not completed its 17th season of competitive play!  As always, we can take a look back at previous years Top 10 moments
For past top 10 moments articles see these posts
#10 The Sanchize is on the board with Peter on the bump!
Our first game of the season was also our first night game and first Friday night contest.  It also marked Peter Connolly's first game where he would get the start and throw every pitch.  We were in Rochester playing against the Pioneers in a game that would count against the Beast of the East standings.  I worked a revamped lineup to play in this game and started both active rookies.  David Sanchez was a rookie but an injury would limit him to DH duties.  He was no rookie at swinging a bat because he has a deep baseball background before from his time in Puerto Rico.
After Rob Dias led off the inning with a run, Sanchez strode to the plate. With Connolly on the mound, David took the very first pitch he saw and launched a fly ball to the left side for a run.  He made it look easy and became only the second Renegade in team history to score in his first at-bat.  What made this unique was he became the first ever to score on the first pitch thrown to him.  To make it even more unique was the fact Peter Connolly was on the mound and it was the first time he had ever had a player score their first run against him.  The Renegades would go on to win its first ever night game.
You never forget your first and we love to celebrate them!  Later in the year, David would earn a fun nickname as Jason Lenicheck coined him "The Sanchize".  David would go on to have a nice rookie year batting .471 (8-17).  This ranked as the 3rd highest average of any rookie in team history.
You can see this moment at 7:49 in the video below
#9 Shawn Devenish gets Defensivish vs San Antonio
A rookie in 2016, Devenish showed a lot of promise as a defensive player in practice.  He moved well and made some plays on defense but his time in the defense was limited.  He worked hard in practice in 2017 but still, we found it hard for him to get on the field defensively.  
This year things changed. Shawn's confidence grew.  His mechanics improved.  Shawn was bouncing around playing a mixture of 1st, 3rd and rover through the World Series.  As we went into our biggest game of the year vs San Antonio, we had Shawn playing in the rover spot, or the third layer of defense.  
Coming into the season, Shawn had just one career defensive stop  to his name vs the Long Island Bombers in Beast of the East Play in Woburn.  In 2018, his confidence was growing and he made three stops in Beast of the East Play including two in one game against the same Bombers in Rochester. During the early rounds of the World Series Shawn started to wrack up stops.  He had four to his name against Toronto, Long island and Tyler.    
His breakout game came vs San Antonio playing  rover and he had a career best three stops in one game. Nothing is more back breaking to an offense then to have their deep shots taken away.   His defensive play kept us alive in an elimination game the Renegades eventually lost by just three runs.  To put things in perspective, the most stops ever made in a game from this position is four by Joe McCormick in 2013 vs the Chicago Comets and Christian Thaxton vs the Titans in 2017.  No other single player has made more than three stops at this position in a game.  Shawn Devenish finally became Shawn Defensivish.
You can see these plays here at roughly 18M30S into this video against Rene Almanza for the 2nd out of the 1st inning.  at roughly 31M00S against axel Cox fir the 2nd out of the 2nd inning and 1H24M as the last out against Axel Cox in the 5th inning.
#8 Waking up against the Millers
The Gades had high expectations heading into the World Series.  The team was 4-0 heading into day three of the World Series, one of eight teams still alive in double elimination.  The Indy Edge had just clobbered the Renegades for its first loss of the 2018 season in mercy rule fashion 23-8.  Next up were the Minnesota Millers.  The Millers came into this game with a lot of confidence after defeating the New Jersey Titans for the second time in the week and both teams faced elimination with one loss each.
Boston got off to a sluggish start with emotionless at bats a quiet bench and an injury to David Sanchez that would end his World Series. When the 4th inning came around, the Millers took their first lead by the score of 9-8.
I called the team together and encouraged them to wake up and get their energy level going.  Two innings remained and the season was now on the line.  After Joe McCormick struck out to lead off the 5thth inning the team did not waver or panic.  Larry Haile fouled off 4 pitches before scoring on a line drive up the middle.  Shawn Devenish kept up his seeing eye single magic when his hit eluded the Miller right side of the defense again for his third run of the game.  The team was waking up.  Thaxton, Dias and McCormick scored as the 1-2-3 punch.  Boston had its best inning of the game, plating 5 runs.  The score was now 13-8.
It was like the air came out of the Millers.  Boston was playing with spunk it had not shown all week.  The bottom half of the Miller lineup had no answer as Proctor and Dias made stops.  It was the first donut inning of the game.  Boston smelled blood in the water.  Again, the team came to the proud coach who was proud of the turn in energy.  A cheer for insurance cried out!  "WE ARE FARMERS!"
That call for insurance was answered.  Devenish led off the 6th with another ball to the right side.  It would be the first time in his career, he would score 4 runs in a game!  Later in the inning on just 7 pitches, Cochran hooked up Thaxton, Dias and McCormick with their second 1-2-3 scoring inning.  That was the nail in the coffin.  Boston had 17 runs.  Once again the team learned the importance of energy in sports.
To read more see our blog here or watch the video at 1H:31M & 1H57M  on that page for when the momentum turns for the Boston offense.
#7 
where has this been all week?
After San Antonio eliminated us, we walked over to the adjoining field to take on the Austin Blackhawks.  They are the New York Yankees of beepball as they have more rings than any other franchise in history. Before we could even get to the field, high pitched sirens roared warning everyone of a potential tornado.  Austin has a lot more experience handling tornado warnings than the band from Boston.  Little did they know, the Renegades were poised to break out and play their best ball of the week in the 5/6 seed game.
With both teams boasting large benches, both teams trotted out their starting lineups for this game that was merely for seeding.  Both teams wanted to prove them self in this game.  the Renegades just played loose and had fun.  It was by far, the bet game the team would play all week long.  In just three innings, the Renegades invoked the 12 run mercy rule on the Austin team.  It was the best team the Renegades have ever 12-runned in team history (The Renegades have had 22 12 run mercy rule wins in history)
On offense Boston scored 13 runs but they did it by hitting lasers all over the field, earning their runs.  The team had 10 quality shots and scored on 9 of those balls.  Thaxton hit three bombs (one was a dead ball) and scored thee times.  Dias hit two lasers for runs and scored on a grounder as well..  McCormick hit a high fly ball to the right side and a laser up the middle for 2 runs.  Shawn Devenish hit two bombs and scored a run.  Larry Haile also hit a laser for a run.  Up and down the lineup 7 Renegades scored (Zuccarello also pitched in a pop up for a run).
On defense things were equally impressive.  Austin was making contact and spraying the ball all over.  Four Renegades would make stops in this contest led by Justen Proctor who made seven up front on the left side.  Joe McCormick made three stops at 1st base and Rob Dias made three stops up front on the right side as Austin tried to test the right side of the Renegade defense.  Joe Yee also pitched in a stop plying third base,  the team made 14 defensive stops in six innings of play.
Austin coach, "Uncle Mike" was shocked and kept asking coach rob why Boston was taking things out on Austin.  He said that he had not seen us play like this since our title run in 2016.  He was right, the team played loose and confident.  If only, we had played like this in the previous game, we would have finished with at least our 2nd best World Series ever.  To read more about this game read our blog here
#6 Beasts of the East for the 8th time
Going to Philadelphia in July, we were 3-0 in Beast of the East competition and were going to likely face the New Jersey Titans twice.  We predicted they were going to be our biggest challenge of the East coast as they added two players to their roster who instantly made them better in Scott Hogwood and Randy George.  We also found they had a new pitcher/catcher combo who was working with the team all year round.  This was going to be a test for sure.  Ron Cochran, our number one pitcher was unavailable for this trip.  We would be on the shoulders of Jamie Dickerson and Peter Connolly in order to win the "Beast" for the 8th time!
In game one, the Renegades made a statement.  Boston would invoke the 12 run rule on the Titans in just 3 innings of play as Dickerson and Connolly each kept the ball in play.  The Renegades were 8-15 off Jamie and 5-7 off Peter.  A huge way for these two pitchers to pick up the team.
After the Renegades crushed the Lightning 15-4, the Renegades and Titans would face off again as the two top teams on the East coast as we predicted.  This game would be different.
Boston jumped out to a 9-1 lead after two innings of play but in the top of the third, Haile, Sanchez and Zuccarello would each strike out.  Things were about to get ugly.  The Titan bats got hot as they scored 10 times in the 3rd inning to take the lead 10-9.  As the Titans were finding holes and scoring runs, their team energy was at an all time high.  Not only do they have an energetic team, they were playing close to home and had a huge gathering of friends and family rooting them on.  Aside from the title game in 2016, this was the biggest away crowd the Renegades had ever faced.  They were not friendly to the Renegades and were excited to see Boston lose the lead.
Gut check time for the Gades after Shawn Devenish made the final defensive stop to end the Titan rally.  Boston would score 5 times in the 4th and another five times in the 5th inning to push the score to 19-11.  the Titans would scratch two more in the 5th but Boston answered with a pair in the top of the 6th.  Final score Boston 21 and the Titans 13.  Jamie Dickerson had the squad on his back as the Gades went 17-28 off him and Peter Connolly pitched in four runs of his own in 11 at bats.  It was so impressive to see these two guys pitch so well over the weekend.  It was a true team effort to win this 8th Beast of the East title.  I can still remember the days when we could not get over the hump of beating Long Island.  Now we have one of the best beep baseball programs in the country.  Read more about these wins on our blog   Also below is the final game and come from behind victory
#5 Silver Unicorn Brings me "Home"
In June, we were fortunate to have Dave Wanczyk come to the area to support his book beep, inside the unseen world of beep baseball.  He planned three book events in Massachusetts and two of them were near us in Cambridge and Acton.  To have our team followed and a subject for part of a book was both humbling and an honor.
It was special for me to share this event with teammates, family and friends.  It especially excited me to see some former Renegades like Darren Black, Evan Silver, Joe O'Neill, JJ Ward, Kristen Kirk-Paladino.  It's so meaningful for me to see some of our former players and coaches stay invested.
The second signing took place in Acton, where I grew up,  at a new book store called The Silver Unicorn Bookstore.  Max Goder-Reiser was instrumental in making this happen through his SABR connections. This book store is owned by a man who has a true love for the game of baseball.  He wrote about baseball professionally before opening this store.  
Less than a mile from this store is a tiny park called Gardner Field. However, when i was young, in the mid 1970's, we used this field for playing T ball.  My squad was the Rays. My first uniform, a yellow t shirt with "Rays" written in black script letters and a yellow hat with a block lettered "R" on it.  R for Rays, Robert..and now Renegades. 
I've gone from playing ball on this grass to coaching ball on grass.  There is no dirt on a beep baseball field, just as there was no dirt on that field in Acton.  Acton was my home.  I played all my baseball in Acton and it was there where Ron Cochran, Jason Lenicheck and I played many games together.  It just sent chills down my spine to be back here…nearly 40 years later.
I love myself a good story.  It can be about a super hero or a mystery.  I love the movies because, I love stories.  Dave began to read from his book and talk about our story.  He told the story of Joe McCormick. He told the story of David and Goliath as the Renegades battled the Bayou City Heat (we were a version of David in this story).  
I listened to Dave tell our tale, It transported me back in time to that very moment I spent pacing that first base line griping my blue clip board and working deep breathing techniques. I surveyed the crowd whom gathered to be here this day.  I saw their smiles.  I was proud. Proud of how we built the Renegades.  Proud in what every coach and player has accomplished on this wonderful team. Proud to have this story told in a store where The passion of baseball cries from the shelves. Proud to have Dave tell our story.  It can be seen below
#4 We go All In vs the Tigers
Walking into this game, we were surprised to find the Tyler Tigers had upset the Chicago Comets.  Tyler has an athletic bunch of players and came into the league around the same time the Renegades did.  This win by Tyler assured them of their first ever top 8 team.  The winner of this would enter the top 6.
We jumped on Tyler and quickly the score was 8-1 after three innings.  It was a hot day, and this was our third game of the day which started on the field at 7:00am.  Friday was going to be so important to the season.  Soon I was faced with a coaching dilemma.
In the 4th inning, the team got hot and the team was now up 13-1 with a 12 run lead and the league's best hitter coming to the plate.  One strategy to have is to let all the best hitters hit and put the game into a mercy rule so we could get the team back to the hotel and into the cool weather to get ready for a top 6 run.  Rest is critical, we could have done this.
Instead, I turned to the on deck circle a few batters earlier and asked for feedback.  I got Christian and Joe McCormick's attention.  Quickly between pitches I asked them…do we go for the 12 run mercy or get everyone into the game.  Without hesitation and unified they requested to get everyone into the game.  The right answer!
We would eventually get all 12 of our players into the game.  Eleven of these players would get at least one at bat in this contest.  What also made this special was all eleven players scored at least one run.  Despite eventually winning this game 20-3, the team;s excitement was at a higher level when Joe Quintanilla, Luis Soto and Aqil Sajjad scored.  This trio scored 4 runs in the '18 World Series but all 4 of them came in this game.
Hearing the starters and bench erupt when these guys scored and watching all the smiles and fun the team was having was a coaches dream.  To see the selflessness and team unity was incredible.  Yes, we spent possibly another hour in the heat.  It may have been the best hour of the World Series.   As a Coach and someone who has worked on this team's culture since 2003.  A moment like this when you see how much the team enjoys and supports each other has to be high on this list!  It all started around 1H 17 minutes in the game when I start to get people warming up (and you can hear some of the conversation)
#3 Broadcasting a Game with my Nephew
For the 2018 season, one of my Nephews, Hunter played an intern role for the team.  We worked hard to get him some experience with marketing, media relations, fundraising, writing, project management and social media to help him toward his sports management degree at Franklin Pierce University.  To say he learned a lot can't begin to describe his experience.
One thing we handed him and let make his own was broadcasting games on Facebook Live.  Max Goder-Reiser set the bar pretty high with his broadcast of the Beast of East matches in 2017 and we felt it would be something to let Hunter own for 2018.  After he did broadcasts from Rochester, he and I sat down and discussed what could be done better and what was going well.  His favorite thing was his broadcasting partner, Luis Soto.  He enjoyed broadcasting with Soto translating into Spanish.  He enjoyed watching Soto gain confidence and have fun and this helped Hunter's confidence as well.
With Rob Thayer being a scratch from the World Series roster due to a health concern, we subbed Hunter into the fold in the weeks leading up to our trip to Wisconsin.  Hunter would end up broadcasting 8 of the 9 games we played.  The players loved it because he was giving play by play on the bench.  The fans loved it as they could watch from afar.  The league even caught wind of his work and they were impressed.
After our win over Austin, we were walking back to our vans located where the semi finals was being played between San Antonio and Bayou City.  Graham Mathenia, who runs the video streaming for league games saw us walking across the field.  He asked Hunter and I if we had interest in broadcasting the game.  Because he let us do it together, I was excited.  Now that our season was over, we could sit back and relax and I could share this amazing sport with my Nephew.
We had to find a second chair, grab lineups and get prepared while the game was going on.  This effected our rhythm at first.  But once we settled in, we started to have some fun.  Hunter gave the play by play and I provided color. It was a blast watching the game through his eyes.  We especially had fun making fun of and supporting the catchers.  Why catchers?  We both play that role.  He is now on the varsity Franklin Pierce baseball team and I'm catching for the Renegades.  Nobody ever pays attention to catchers in beep baseball, so we just wanted to have some fun and provide insight from a unique perspective on the field.
Hunter would later tell me it was one of the highlights of his season.  That sentence alone made this make my top three moments if the 2018 season.  I'm grateful to have been able to give him an experience to help others do something he loves.  Volunteering has become a key part of my identity.  Being able to share that passion with my Nephew was, as Mastercard would say was "priceless".  Here is that broadcast below:
#2 Hoyt's Best Game Evah!
She has played for 12 years and is the most tenured female player in Renegade history.  Stats do not define what she has been through to get on the field.  For Melissa, she does the best she can and is often limited by her inability to breathe or just feel well.  She perseveres and she shows up year after year, practice after practice.  She sometimes sits on the sideline for half a practice recovering, but she loves the team, sport and the game.  She never quits.
As we were prepping for our trip to Rochester, I started planning a lineup where Melissa and Daisy would be able to play as many innings as they could against the Pioneers.  The Pioneers have a lineup dominated by females.  I just felt it would be awesome for them to compete against other females, something they do not get much of an opportunity with since the sport is dominated by men.
Daisy, a rookie would be at first base. I needed to move Melissa because she normally plays first.  I thought her skill set would fit perfectly at the toughest spot in our defense, mid field.  I just felt she would be great at picking up balls in the Bermuda triangle between all of her teammates.  I started playing her at midfield in practice, a spot she had never played because its more demanding in the lungs and body.  She was up for the challenge.
Up 5-0 in the top of the third inning, Melissa entered the game.  She did not want to play the whole game because she was not feeling 100%.  She felt she could go half the game and we planned to bring her in later.  With one out in the 3rd, Pioneer Kyrstin Smith hit a fly ball up the middle.  Just as we thought, it went by both shorties, Rob Dias and Guy Zuccarello.  Melissa crept up on it and picked the ball clean out of the grass for an out.  It was her second career defensive stop and first since she made her only other stop in 2010 in front of the home crowd in Sudbury, Mass.  It would get better
With a 9-0 led in the Bottom of the 5th inning, Melissa came to the plate for the 2nd time of the game and oddly enough only her 12th at-bat in her 12 years (due to her lungs, she prefers to play defense over offense because the base running can be too strenuous).  With two strike on her, facing Peter Connolly, she hit a grounder down the third baseline and took off for first base.  Leah Werner who is one of the all-time best defenders for the Pioneers flat out lost it.  It got by her and she had no back up.  She struggled to hear the ball as Hoyt got closer.  The tension was building on the Renegade bench as everyone's mental clock knew she was getting close to scoring, even for those who can't see her chugging up the line.  She hit the base in time and scored her first ever career run.  It was the most exciting thing that has happened on the field in all of 2018!
Hoyt will be quick to downplay her accomplishments, but with a run and a stop on her resume, she has done something that only 64% of our roster has done in team history. Yes, 36% of our roster does not have a combination of a run and a stop on defense on their resume! Melissa's perseverance and desire are to be commended!  You can see her stop at 40 minutes and 12 seconds into the video and her run at 1Hour 15 minutes and 20 seconds into the video.
#1 A Day at the Hall of Fame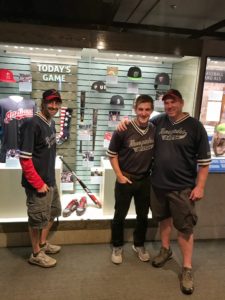 This brings us to the number one moment of the 2018 season for me.  That has to be the day we spent at the National Baseball Hall of Fame in August.  For me this was special on so many levels.
I'm a giant baseball fan and to be able to be part of a program hosted by the Hall of Fame was an honor. To listen to Dave Wanczyk read his book and tell tales of our sport at the National Baseball Hall of Fame sent chills down my spine.  To sign autographs for people at the hall, are you kidding me?  This actually happened!  
But what made all of that even more special was being able to share the weekend there with my good friends, Bryan Grillo, Ron Cochran and Jason Lenicheck, my nephews and many of my players.  Such an amazing day to share with some great baseball fans.  in fact, it was the first time both of my nephews had ever been to Cooperstown!
One of the highlights of my entire coaching career was being with Christian Thaxton when we went to see his bat enshrined in the Hall of Fame.  It brought tears to my eyes as I watched him take it all in.  This young man  loved baseball, played in College and had that part of his life taken away when he was diagnosed with an eye disease.  Knowing that our team, our coaches and players supported him and gave him an opportunity to play again felt great.  To see the Baseball community honor him and put his bat and picture on display in Cooperstown was just another level of emotion that I have never felt before.  It was a dream and it was incredible to see his dream fulfilled.  This day was so amazing that I actually wrote two blogs about it.  So if you want more of the details please check out my blogs:
Below is a video after Christian saw his bat with remarks from both Christian and Ron
We have already hit the cages in 2019….so for now, Let's start making memorable moments for the 2019 year!  Thanks for reading and if you have comments about moments that you think could have been included here, we welcome those in our comments below!