The World's first ever book about beep baseball features the Boston Renegades!  Author David Wanczyk published a book about beepball, which he first became interested in during the title game of the 2012 season.  He caught the fever and then decided to follow the sport intensely for the 2013, 2014 and 2015 seasons. Dave spent a lot of time with the Renegades in the hotel, on the bench, on the phone and around the World Series.  He even spent time at the McCormick household.
On the Radio
Recently, Dave hit the airwaves to promote his new book called Beep Inside the Unseen World of Baseball for the Blind.  On Friday, March 30th David appeared on BYU Radio on a show called Top of mind with Julie Rose.  Julie was a well informed interviewer and talked about the book with Dave for nearly 50 minutes.  Dave even read some passages from the book to give you a flavor of his writing style.  You can listen to that interview here
Buy it on Amazon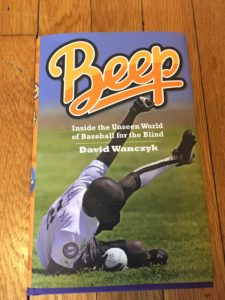 The book is available on Amazon for purchase in both hard cover and kindle version and can be purchased here 
Beep and the Renegades
It was an honor to share the sport with Dave.  He became part of our team and got to know many of our athletes and volunteers.   Here is a small quote from the 218 page book.
"…The Renegades spooled off stories about blindness and baseball and let me into their team jokes, their judgements of other players, and their nicknames for each other.  Larry Haile, who travels all over the world to ride on subway systems that intrigue him is "L train".  Shayne Cantan, who is of Hawaiian descent and had gained weight since his last season, is "Hawaiian Lunch.
I asked "Lunch" and "Train" and the coaches what would constitute success in the series.
I think everyone has a different definition of winning the tournament," coach Justin Manjourides said.
"Oh, start coaching girls' softball, for god's sake," pitcher Ron Cochran said (Cochran does, it turns out, coach his daughters' softball teams.)…"
Wanczyk and the Boston Globe
In May, 2014, Wanczyk wrote an article about our very own Joe McCormick.  That article appeared in the Globe Magazine.  This article was amazing and did a great job of promoting the book almost four years before it was published.  You can read more about that article here
Who did he talk to from the gades?
Dave interviewed many of the Renegades including: Shayne Cantan, Ron Cochran, Rob Dias, Bryan Grillo, Lisa Klinkenberg, Justin Manjourides, Joe McCormick, Joey O'Neill, Joe Quintanilla, Aqil Sajjad, Sean Sweeney, Rob Thayer, Dino Vasille, Rob Weissman and Guy Zuccarello
He also spent time with some of our fans including Ashley Borders, Sarah Ellen Cochran and Dawn McCormick