You can now support the Renegades with a Renegade Christmas Ornament!  One of our coaches, Trish is an artists who makes items out of epoxy resin and alcohol inks.  She has an Etsy store that can be found here if you want to check out her products!  Trish is looking for ways to help the Renegades with its travel costs as she just finished up her first year as a coach!
Trish created small 3 inch circular ornaments with custom Renegades logos. They come in two colors — red or blue (see pictures for reference).   The ornament is made of resin with alcohol ink and includes a bow to hang from.  Each ornament is $10 each and 80% of proceeds will be donated directly to the Renegades!  Please order your Renegade Christmas ornament before December 12th, 2022.
Sample pictures of the Blue Renegade Christmas Ornament
Sample pictures of the Red Renegade Christmas Ornament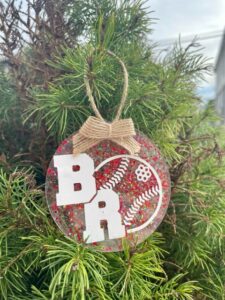 How to order
1. Email Trish at [email protected] with the quantity, color and mailing address BEFORE December 12th, 2022
2. She will confirm the order with you.
3. Once the order is confirmed, payment will be accepted via Venmo. Trish will give that information out at that time.
4. Once payment is accepted, your ornament(s) will be mailed directly to you! (free shipping)
We thank Trish for her dedication to the team.  She has been a big contributor both on and off the field!