Most of our Renegade fans are either fans of our players and coaches or sports in general.  We have a fun way to allow you a chance to be a winner and make us a winner as well!  Please consider buying super bowl squares to support the Renegades.  Part of those proceeds go to the team and for every square you buy, you have a chance to walk away with up to $1,200.
For those who know how squares work…here are the details…and if you don't know what a square is…we will explain that below
Details
$25 per square
Payouts to the winners: $300 (1st, 2nd 3rd & final)
Numbers will be drawn once we receive all 100 participants Names
Square is not granted until payment is received on venmo (If you do not have Venmo, please contact your favorite Renegade to discuss how you can send them the money)
**Proceeds will benefit the Boston Renegades  for travel expenses for the upcoming season **
For any questions, e-mail

[email protected]

For payment we'll only be accepting venmo to @Shannon-Cantan (or scan the image below)
If you do not have Venmo – please contact your favorite Renegade and pay them directly and they will submit the entry for you
How Squares work
When a square is purchased – you will be randomly placed on the board as shown below in a 10×10 grid with the AFC and NFC teams on opposite axis of the grid
Once the squares have all been sold, we randomly draw numbers for each axis of the grid.  We will randomly draw numbers for the AFC team between 0-9 for each column and do the same for each row for the NFC teams
The pictures below show an empty chart and a completed chart
To determine winners we do the following at the end of each quarter

Look at the score at the end of each quarter and take the last digit of each score.  So – pretend the Pats lead the Eagles 13-0 at the end of the first.  The number would be 3 for the Patriots and 0 for the Eagles.  In this example – Sally wins
If at the Half time its 16-10 – then Laura wins
You can win multiple times based on how many squares you buy or if your number hits more than once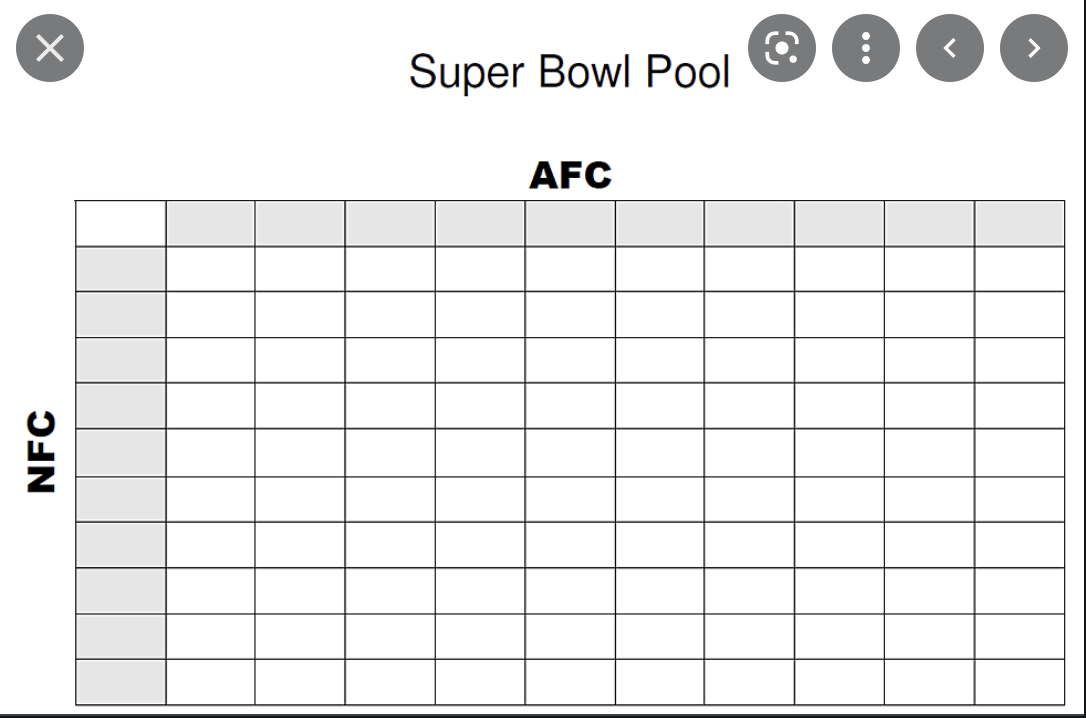 Now that you have your numbers – what do you think of your odds?
check out this article and the math behind the numbers.  Can you be one of the 4 people who beats the odds? https://www.si.com/nfl/2015/01/28/super-bowl-squares-xlix-nfl-analytics