The Renegades have been playing in the NBBA since 2002.  They have had many people as part of their team.  Below is some information about players and coaches of the past who are still a part of the Renegade family.
The Players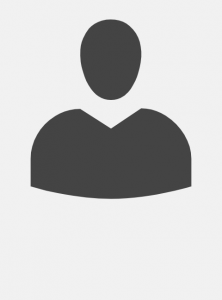 #18 Gary Anderson (2002-2003)
3rd Base
Gary played with the Renegades in the early years.  He played in a total of 12 games over his 2 year career.  He finished his career as a platoon third baseman.  In his career he hit .125 (3 for 24 with 12 strike-outs).  He scored against Kansas, Chicago Bluffs and the Cleveland Scrappers.  He also made two defensive stops in his short career with the Renegades.  Gary passed away in 2014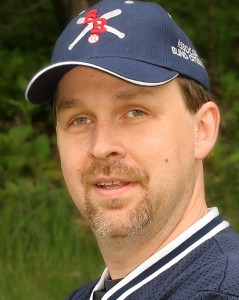 #19 Darren Black (2002-2012)
Garbage Man (Shorty), 3rd Base, Mid-Fielder
Black was the captain of the team till 2005 and we named a position after him. Darren put the G in Garbage as he played the short man position in our defense. Black retired as the all-time leader in putouts for the Renegades with 322 put-outs. He won awards for his defensive prowess in the Bolingbrook tournaments from 2004-2007, won the defensive MVP at the 2006 Long Island Classic and made the World Series Defensive All-stars in 2004 and 2006. At the point of his retirement only 4 times in Renegade history did a player have more than 60 stops in a season.  Darren did it three of those times (2006 – 63, 2004 – 61, 2007 -61).
Awards: 2003 World Series Defensive All-Star 2nd place 28 stops
2004 Bolingbrook Defensive All star  28 stops
2005 Bolingbrook Defensive All star  17 stops
2006 Bolingbrook Defensive All star 4th place  20 stops
2006 Long Island Classic Defensive MVP  18 stops
2006 World Series Defensive All-Star 6th place 25 stops
2007 Bolingbrook Defensive All star 6th place  12 stops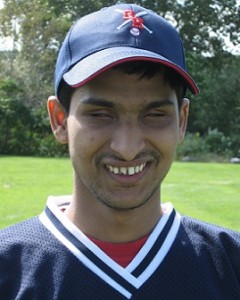 #1 Srikanth Bolla (2011)
Shorty
Srikanth brought more brains to the Renegades as he attended MIT while in his stint with the Gades. Sri also added some international flare to the team as he comes from India. Sri had experience playing sports in India with his visual impairment and he had instant success playing beep baseball. He joined the team in 2011 and did not see game action as he has had to return to his native country for the summer. He had intentions of coming back to the team but he was forced to go back to India during the summers and our schedules never worked well enough to get him on to the field full time.  Bolla left the States and started his own company and has become pretty famous for his work in building Bollant Industries Pvt ltd. .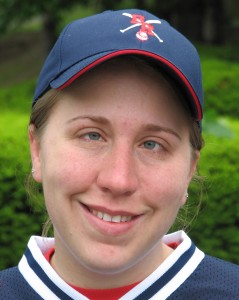 #30 Rachel Buchanan (2009)
1st Base, Rover
Buchanan showed her toughness in a try out in 2008 when she took a ball off the face, came away bleeding, "rubbed some dirt on it" and kept playing. When you saw her grip a bat, you saw the girly side as she sported fashionable pink batting gloves. Rachel was just the third female player to play in an NBBA game for the Renegades. She finished her short career with 2 at bats.  She ended up leaving the Boston area shortly after hear career started.
#15 Joey Buizon (2003-2015, 2018-2019)
Shorty, Mid Field, Rover, 1st, 3rd
"Wrong Way" (one of the best nicknames in the league) got that name for running to the wrong base in the summer of 2003.  To this day, he still earns that name for his base path escapades.  Buizon earned his graduate degree in Vocational Rehab from Umass Boston and currently works as the Supervisor of Employment Services for the Mass Commission of the Blind.  Buizon began to lose his sight at age 16 and that put an end to his playing of organized basketball.  He started playing for the Renegades while attending Bridgewater state in 2003 and he played till he needed to take a break to raise his two sons.  Buizon was a captain of the Renegades in the 2005 season and was a star in 
our documentary
.  This Somerville native is one of the all-time Renegade two way players.
Awards
:
2008: Philly Classic Offensive MVP .556 (5-9)
2013: Bolingbrook:  2nd place Offense .667 (10-15)
See Buizon speak to the 
Boston Herald
 in 2018 and 
New England Baseball Journal in 2013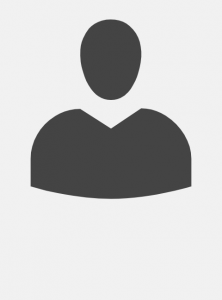 #15 Tim Cumings (2002-2003)
1st Base
Tim was one of the original Renegades that started the team.  He was a captain of the team in 2003 before he decided to hang up the spikes half way through the 2003 season. In his short career, he played in 5 games and hit .200 (2 for 10) with 7 strike-outs.  Tim scored his two runs against Kansas and the Chicago Bluffs in 2002.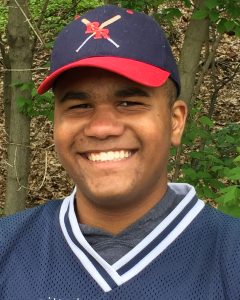 Tomas De Tuya (2018)

TJ became one of the youngest Renegades in team history joining the squad at just 17 years of age but still in High School.  He joined the team in the spring of 2018 knowing he would not be able to play in any tournaments due to his personal travel schedule.  He had been looking for a team sport to participate in as he continues to lose his sight with his sights to be a full time Renegade in the future. He had to step away from the team and we hope when his schedule allows, he will return to the squad.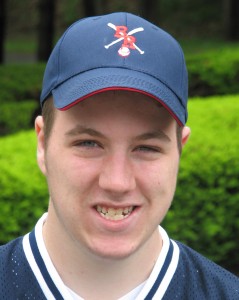 #38 Joey Duggan (2009-2012)
Designated Hitter
Duggan became the fifth active Renegade named Joe but the first Rookie of the 2009 class to get a nickname. In 2009, "Hacksaw" Duggan became the youngest player in Renegade history at just 17 years of age. He graduated High School in Foxboro during the 2009 season. He lived walking distance from the three time World Champion, New England Patriots but will be found sporting the Green and gold of the Green Bay Packers. He left the team mid-way through the 2012 season while he was having his best season at the plate, hitting .200. In his career, he played in 22 games hitting .128 with 12 strike-outs in 39 At-Bats. A highlight that will never be forgotten was a run producing hit he had against his father in the rain against the York Thunder sticks in 2012.
#36 Tony Flinn (2008-2009)
Designated Hitter, 1st base, Rover
Tony entered the 2008 season as the team's only rookie and every single practice he improved his game.  He improved so much that by the end of the year he had cracked the starting line-up in the World Series for the Renegades.  in 2008, Tony set a Renegade Rookie record for the lowest strike-out percentage in a season (18.2%).  His 2008 highlights included making two huge defensive stops in the 2008 Philly Hall of fame classic and scoring 2 runs in a game against the North Carolina Pride in the 2008 World Series.  Tony retired with a career batting average of .184 in 38 at-bats with two defensive stops in 18 games.  At the time of his retirement, he was the 5th hardest player to strike-out in team history (26.3%).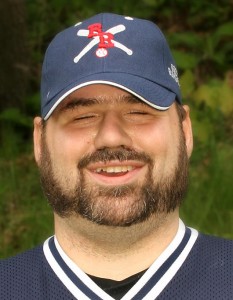 #20 Rich Flint (2002-2005)
Designated Hitter
Rich Flint swung one of the biggest bats in the early years of the Renegades.  He was known for some of the longest hits in batting practice.  Flint's best season was 2004 when he scored 4 of his 5 career runs.  He excelled at the 2004 Bolingbrook tournament where he tied for the team lead in runs scored (4) with Joey Buizon.  In his career Rich played in 26 games and hit .113 (6 for 53) with 25 strike-outs.  Flint's career was cut short by knee injuries.
#35 Chris Genikos (2008-2010)
Designated Hitter
Genikos joined the Renegades late in the 2008 season to join Tony Flinn as rookies on the squad. His first look at the game was during a charity game against Chen PR. Chen signed Genikos to a one game contract and placed him in the line-up. In batting practice, Genikos was launching balls over 100 feet in the air on his first few swings ever. In his first at-bat, he hit the ball hard in the game but found himself running to the wrong base as his baseball instincts took him to first base instead of third which was buzzing. A common mistake by most people who play the game for the first time. Chris had his career cut short by Tommy John Surgery which was needed after he hurt his arm during batting practice. Chris played in 10 games in his career with 15 at bats and he did not score a run.  Though he had fierce power at the plate, his hearing aids made it hard for him to run the bases.  Chris passed away in 2015
#73 Damon Graff (2013-2014)
Designated Hitter, 1st base
Damon joined the Renegades in the 2013 season after years had gone by since he last tried the sport in the mid 2000's.  He brought with him another impressive degree to add to our "smart team" persona with a degree from Brown University.  Damon played in 6 games for the Renegades in the 2013 season and totaled 9 at-bats while also playing a bit in the field as a defensive player.  He was forced to retire from playing ball when he developed a problem with his back that required major surgery in 2014.   Damon was very involved in helping the team off the field with his mother, Joyce.  The two of them helped promote the team with the local Rotary clubs.  Together they helped fund our rookie class of 2014 to cover their travel expenses.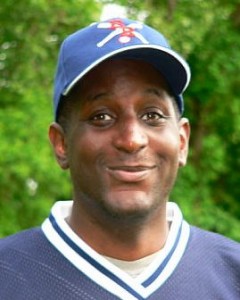 #81 Larry Haile (2006-2019)
3rd Base, 1st Base, Rover
We call him the "L-Train".  This Train started with the team in 2006 and at that time had never swung a bat in his life.  He worked hard and has become the leading scorer in Renegade history with more than 300 runs to his name.  Larry has a love for public transportation.  He travels the world on his own. Riding trains in different countries is something he enjoys.  In a former role working with the MBTA, he helped introduce accessibility options into the existing process.  He also has extensive experience helping with mobility training.  Those skills have paid big dividends on the Renegades because he often helps orientate his teammates when they arrive to a new hotel or city.   Originally from the DC area where he ran track in a school for the blind, Larry calls Brookline his home.  Many recognize Larry as one of key players on the team to keep the team energy alive with his love of leading team cheers.
Awards: 2010: Beast of the East Offensive All-Stars 3rd place .500 (13-26)
See 
Larry appear on Chronicle in 2012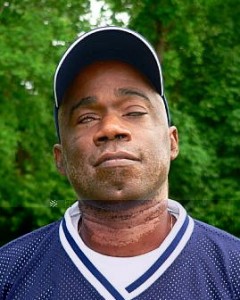 #2 Steve Houston (2005-2009)
Designated Hitter, 1st base
Houston came to the squad late in the 2005 season with more baseball experience than the entire Renegade team combined as he played collegiate baseball at Salem State and also played in the Boston Park League.  After playing years of baseball, Steve thought he had a good understanding of beepball.  In his 3rd year of play, he found out how little he knew about beepball.  In a light moment at practice during the 2008 season, Houston stepped out of the batters box upset at his pitcher, Ron Cochran.  Someone made a comment that Cochran was pitching underhand which upset Houston to the point where he thought the coaches were making fun of him.  Houston yelled at Cochran to stop teasing him and throw the ball.  As his teammates laughed, Houston quickly discovered that in beepball, pitchers don't throw overhand.  Steve retired after playing in 18 games with a batting average of .138 in 29 At-bats and two defensive stops.  His best game was against the North Carolina Pride in the 2008 World Series where he scored two runs.  At the time of his retirement, he was the 2nd hardest player to strike-out in team history (17.2%)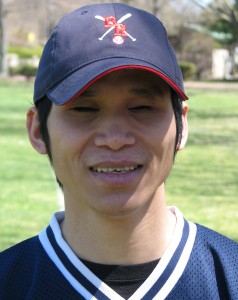 #8 James Thanh Huynh (2014-2017)
Shorty, Rover
Thanh was amongst the largest rookie class of 2014.
He had a previous experience with the Renegades and decided he wanted to come back and play after trying the sport 10 years prior in 2004.  Despite that elapsed time, he was our youngest rookie in 2014 and one of the youngest guys on the squad.  Than joined the team from Worcester, Mass which is one of the longest commutes any of our players have but that distance was not a barrier for him.  Thanh was born in Vietnam, continuing the cultural melting pot that we have on our squad.  He graduated with a degree in Computer Science.  While with the team he quickly became one of the most aggressive defenders on the squad and was a big part of the 2016 team, which finished 2nd in the world in Ames, Iowa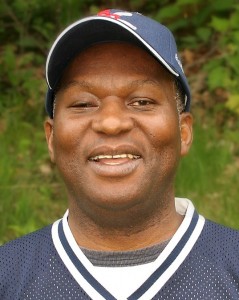 #17 Inky Inkiala (2002-2006, 2008-2016)
Shorty, 1st base, Rover
A rare combination of speed and age is what this African born player brought to the Renegades. Inky was born in the Congo many, many years ago. He was the oldest member of the team (playing till the age of 60) and arguably was the fastest player as well. In the 2005 Bolingbrook tournament, Inkiala came an at-bat shy of making the all-offense team as he hit .571. Inky has won championships in blind sailing and fencing, and looked to add Beepball to the list of his achievements. After taking the 2007 season off, Inky returned in 2008 and scored the tying run in Boston's amazing 5 run come from behind walk off victory against the Chicago Comet B team to clinch the first ever tournament championship for the Boston Renegades. Inky was well known for his defense and had a knack for making some amazing stops of balls hit in the air. His best play was against Kansas when he snared a line drive out of the air above his shoulder after one bounce. He finished his career playing in 104 games (6th best in team history at the time), hitting .260 (51-196) and making 95 (6th most in team history at the time) defensive stops.  He also finished 6th in strikeouts with 80 strikeouts over his career.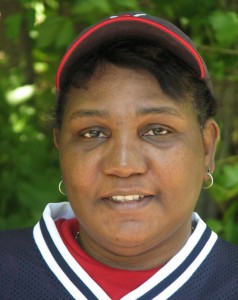 #77 Pam Love (2013)
1st Base, Mid Field
Pam Love joined the Renegades as a rookie in 2013 as a former fast pitch softball player who played in South Carolina and upstate New York.  Pam lost her sight in 2010 due to a subarachnoid hemorrhage and a stroke.  She never thought she would play ball again until Inky talked about the team with her.  She became the fourth woman to appear in a game for the Renegades in the history of the team and she had the most lethal swing of them all due to her background.  Her softball background as a shortstop helped her grasp the team defense quicker than most Renegade rookies in recent years.  We loved having her on the squad and if you listen to her swing, she had a mighty grunt that made the defense back up!  Pam's career game was against the Long Island Bombers when she led the team making three defensive stops in the game to help the Renegades squash rallies and win a tight 8-6 game.  Unfortunately a knee injury suffered in a scrimmage game put her on the shelf for the 2013 World Series before she could show the world that she had become one of the better female players in the league.  That injury put an end to Pam's short career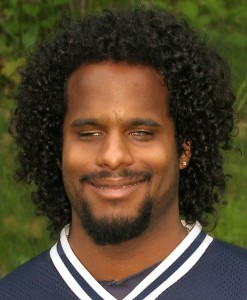 #24 Luis Marquez (2004-2008)
3rd Base, Mid field, Rover
He wore #24, he played left field, he is Hispanic and he has crazy hair. In many ways Marquez is like Manny Ramirez. He made occasional spectacular defensive plays and at times we joked with him because he seemed asleep on the field.  Like Manny he quickly become a fan favorite for his offensive power, defensive skills and the way he just has fun playing the game.  Luis picked up offensive MVP honors by placing on the all-offensive teams in Bolingbrook and the World Series in 2007 by hitting .600 in both events.  Luis was the all-time leader in runs scored (82), batting average (.402) and second in defensive put-outs (63) when he left the team.
Awards: 2007 Bolingbrook Offensive All Star 2nd place .600 (12-20)
2007 World Series Offensive All Star 5th place .600 (18-30)
2008 Long Island Classic Offensive MVP .357 (5-14)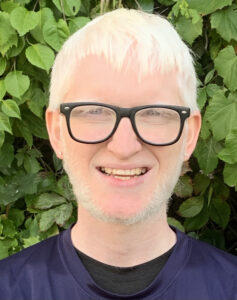 #84 Brittany McDonald (2020-2021)
Shorty
Brit was ready to go for the 2020 season when Covid took that away but came back in one of the largest rookie classes in 2021, which was an abbreviated season for the Renegades.  Brit came to this team with a background as a hurdler and a lot of speed.  Sadly, Brit spent a lot of the season on the injured list due to an off the field accident.  Brit was able to get back on the field and play in three of the four games after coming off the injured list  Brit made two stops on defense and was just the 18th player on team history to make more than 2 or more stops as a rookie.  Brit was planning to play in 2022 but work got in the way and we hope there is a return in the future!
#23 Joe O'Neill (2003-2013)
Rover, 1st Base
O'Neill has been playing beepball longer than anyone on the team in the Boston area. He got his start playing recreationally for the Lowell Association of the Blind in the 1990's. He saw his first competition in tournament play in 2004 at the Bolingbrook tournament. Despite his tourney inexperience, he managed to get the bat on the ball as he was the only player not to strike out in the 2004 season. O'Neill was 14th in team history in games played at 40 when he last took the field in 2013. In the 2012 season, O'Neill logged his most amount of innings on defense as he drew a start against the Taiwan Home Run and played in the field against Colorado and Long Island.  In 2013, he played in the most games of his career, appearing in 6 contests and drawing another start against Taiwan.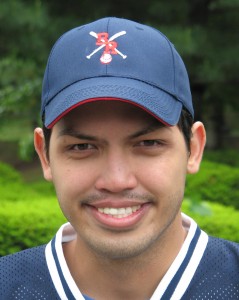 #28 Justen Proctor (2009-2001, 2016-2019)
Shorty
Justen had never played team sports in his life.  In 2009, he decided to come with his brother to check out the Renegades and was encouraged to join the team.  By the 2011 season he quickly had become one of the leagues best defensive players earning a World Series all star award.  Just as he was setting team records for most defensive stops in a season (77 stops), he had finished his MBA and took a job back in his home of Hawaii.  In 2016, his career brought him back to New England and to the Renegades.  It was no coincidence that his return was paired with the Renegades making its first ever NBBA championship game as his defensive prowess was on hand again.  Justen retired from beepball after the 2019 season.  At that time, he ranked as the all-time leader in Stops on defense with 358.   Off the field, Justen was a big part of the team working to help arrange most of the travel arrangements.  His love of travel came in handy when we need to book flights for the various World Series locations.
Awards: 2010 Beast of the East Defensive All star -2nd place (21 stops)
2011 World Series Defensive All Star 3rd place (39 stops)
2017 Bolingbrook Defensive All Star 2nd place (23 stops)
2017 World Series Defensive All Star 6th place (25 stops)
See Justen appear on 
Fox25 Sportswrap in 2018 
and on
 NESN in 2014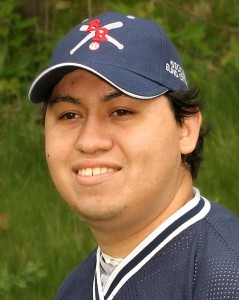 #14 Joe Quintanilla (2002-2020)
Rover, 1st Base, Shorty
Joe Quintanilla was one of the original Renegades who started the team and played in its infancy before the team made its first league appearance at the 2002 World Series.  Joe was an avid baseball fan growing up but never had the sight to play little league.  He eventually would turn his attention to running where he eventually would make the USA Paralympic squad as a Marathon runner where he competed in the 1996 games in Atlanta.  Q's love of running and hard work earned him a spot in the Cambridge Athletic Hall of Fame.  On the field for the Renegades he was the leading hitter on the team for years.  He currently holds record for most games played and most at bats in team history.  Off the field, Quintanilla's passion for sports has helped shape the team culture as he has helped lead countless fundraising efforts.  Professionally, Quintanilla works to fundraise for the National Braille Press.
Awards: 2007 Long Island Classic Offensive MVP .600 (9-15)
See Joe appear on 
WHDH news
 in 2017 and see his 
induction speech at the Cambridge Hall of Fame in 2017
#11 Kae Ann Rausch (2002-2007)
1st Base, 3rd Base
Kae was the first ever player voted as a Captain of the team as she was elected Co-Captain in 2004 by her teammates. Her hard nosed play, willingness to be one of the guys, ability to listen and kick people in the rear when they need it won her teammates over. In 2005, she decided to join the coaching ranks and help the team grow by focusing on teaching new players and coaches the joys of the game. After a few months of being a full time coach, Kae got the bug to play again.  She scored the first run of her career in a home game against the Long Island Bombers on a smash down the 3rd base line that traveled over 120 feet in 2005.
#45 Ben Rubenstein (2011, 2014)
Designated Hitter
An 8 year veteran of the US Marine corps, Rubenstein found the Renegades much easier than any bootcamp he had been a part of. Ben just wanted to be a part of this team in any capacity. The Vet played one season for the Gades and showed great promise at the plate. He scored 1 run in 6 trips to the plate in his short career, but that hit was a bomb down the 3rd base line that Long Island's third baseman will not forget.  Ben attempted a comeback late in the 2014 season with eyes toward playing in 2015.  He got his rhythm back in July of 2014 but as the 2015 season began, Ben had to head back into retirement.  That retirement has led him to move out of the New England area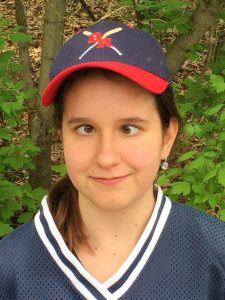 #11 Daisy Russell (2018)
1st Base
Daisy Russell became just the sixth female to play in a game for the Boston Renegades in history.  She actually got interested in the team through her experience playing goalball for the vi-stars, a high school goalball team in which she helped get started.  During her experience there, she played for Kara Peters who was double dipping as a goalball and a beep baseball coach.  She also spent some time interning at National Braille Press with Joe Quintanilla.  These Renegade connections got her down to practice with the team late in 2017 and really sparked her interest.  Daisy plans to graduate Boston University in 2019 and is hoping to be a teacher to help people with visual impairments.
#16 Aqil Sajjad (2010-2015, 2017-2018)
1st Base, 3rd Base, Mid field
Aqil joined the Renegades in 2010 as the 7th person on the active roster with an advanced degree as was getting his PHD in Physics from Harvard University. He has a unique perspective of the game as he played cricket before losing his sight in Pakistan. Combine his analytical mind with his love for the game and he never got cheated on one of his swings. Aqil was one of the most improved players on the renegades.  When he joined us, he had never ran in his life, in fact, we had to teach him how to move his legs and arms.  He turned that into a career where he finished 12th all time in runs scored (80) and was the 4th hardest players on the team to strike out, putting 80.8% of his balls into play when he stopped playing . Aqil also ranked 6th all time in games played (110) at the time of his departure.  His career highlight was a walk off win over New Jersey at the Long Island Classic in 2013…a thrill he will never forget.  Aqil took a job at the University of Arizona which put n end to his Renegade tenure. 
See an interview with Aqil here
.
#29 Evan Silver (2003-2015)
Midfield, Rover
HI HO SILVER!  You heard that call every time Evan stepped to the plate or made a defensive put-out.  Silver was a pampered athlete on the Renegades in the past because he was one of the first players to have his own personal pitcher.   He thrived on the pitching of Rob Weissman in the 2004 season.  Since then, Weissman did not pitch often and Silver  struggled at the plate.  That struggle ended in the 2008 Long Island Classic as Evan Silver was named co-offensive MVP (with Luis Marquez) for his five runs scored and his .500 batting average.  Silver's bat represented 26% of the offensive output for Boston in their Long Island Classic championship.  Evan was a great teammate and kept the guys loose.  He always worked hard and was a chemistry guy for sure.  When Evan left the team he was just one of 7 players who played in 100 or more games for the Renegades and ranked 5th all-time with 12 games played.
Awards: 2008 Long Island Classic Offensive MVP .500 (5-10)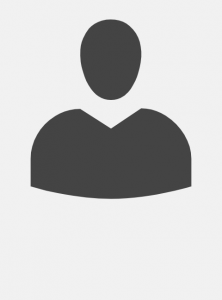 #27 Jon Simeone (2004)
Pinch Hitter
Jon played for the Renegades while he studied law in the Boston area.  Jon played one season for Boston in 2004 and was used as a pinch hitter.  He played in 7 games with  7 at bats and only 2 strike-outs.  He was good at putting the ball in play but he struggled with his foot speed.  He was credited with starting a rally and building the team's confidence in its come from behind win over the Chicago Bluff in 2004.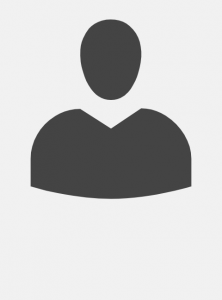 #16 Jon Smith (2002)

John played on the original 2002 Boston Renegade team with his wife Gail.  John was one of the top players from the first season as he was tied for 2nd on the team in runs scored (4) and tied for third on the team with 3 defensive stops.  John played in 5 NBBA sanctioned games and hit .235 (4 for 17) with 10 strike-outs and 3 defensive put-outs.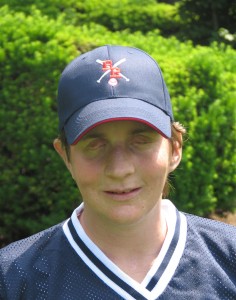 #43 Melissa Smith (2010)
Rover
Smith joined the team in 2010 and played only one half of a season before retiring. She was only available to play in one game for the Renegades in the 2010 season and did not see any action in the field. Smith retired because she could not devote the time she needed to play the game and she wanted to focus on earning her graduate degree.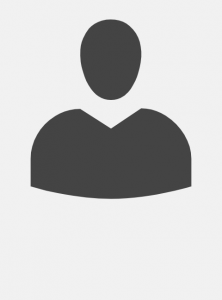 #31 Bob St Germaine (2003)
Midfield
Bob came to the Renegades with the most NBBA experience in 2003 as he had played for the Lowell LAB Retrievers (under Rob Weissman), Lowell Lightning, the Cleveland Scrappers and the Long Island Bombers.   Bob was instrumental in helping get beep baseball started in New England as he and his wife helped with so much of the operation of the Lowell Lab Retrievers. Bob was an important part of the defense in 2003 as he played at the mid-field position.  He helped the team learn about the game with his experience and he was a good team player.  Bob played in 8 games for Boston, he made 3 defensive stops (which was the third highest total on the team in that season).  He did not score a run for Boston as he was 0-18 with 11 strike outs.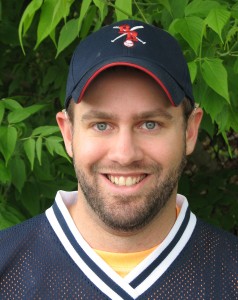 Brian Switzer (2015)
Rookie
Brian was very excited to join the team in 2015 and jumped right into things as soon as the season started making long commutes from his home in Easton, Mass.  He brought with him an athletic background as an accomplished marathon runner.  As the season progressed, Brian had to deal with some health issues and had to leave the team.  Though he never returned to the team, he has engaged with the team through his employment.  The Renegades have worked with Brian to put on camps and talks to teach people about the sport.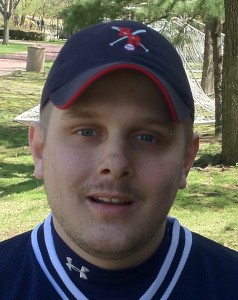 #41 Tim Syphers (2013-2016)
Designated Hitter
Syphers was the first rookie to join the 2013 class as he found the team in the fall and instantly joined.  After participating in some fundraisers over the winter he was eager to start playing ball.  Tim played high school baseball in Watertown before Leber's disease took his sight.  For Tim, High School was only a few years ago and beepball is something he craves and needs.  This sense of normalcy and the chance to play team sports again has opened up a whole new world to a kid who thought losing his sight would be the end of playing ball.  Tim spent most of the 2013 season on the disabled list with nagging injuries that would not go away.  Though he could not play, he came to practices and was part of the team.  He was able to go to the World Series despite not playing all year.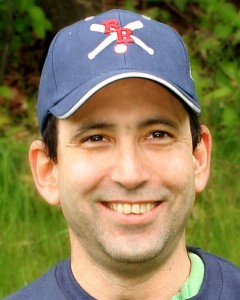 #13 Dino Vasile (2004-2012 2014)
Shorty, 1st Base, Midfield
Dino played 8 years for the Renegades and in his last year of playing which was 2010 he was second all-time in team history in runs scored (117) and defensive stops (164).  Dino acted as a defensive coach in 2011. In 2012 he returned to play but the year was cut short with what we thought was a serious neck injury but after months of rehab it cleared up when he changed the firmness of his mattress.  Dino was one of the faces of the Renegade team as he was hard working, outspoken and hard nosed on the field.  Vasile earned his first defensive MVP as he placed 2nd on the 2009 Bolingbrook defensive all-star team and may have made the World Series All-star team in 2009 if his season was not cut short with a lacerated lip injury against Tyler which required stitches.  It should be noted that after they stitched him up, he wanted to get into the game against Wichita.  Thats how tough Dino was as a player.  When Dino was unable to play he did some amazing work coaching some of the players to improve their defensive skills.  Dino got the itch after taking the year off in 2013 and returned as a player in mid -2014.  He played in 9 games and helped the Renegades attain their highest finish at a World Series ever at that time, a 6th place finish by making 13 stops on defense (4th on the team that season).
Awards: 2009 Bolingbrook Defensive All star 2nd place (21 stops)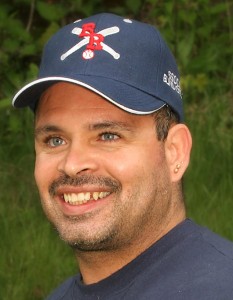 #65 Eloy Vega (2005)
Rover, Midfield
Eloy played one season with the Renegades after coming to Boston from the North Carolina Beep ball league.  Though the rules were slightly different, Eloy was able to quickly pick up the game.  Eloy played in 10 games for Boston in 2005.  He made 4 defensive stops for the team.  He did not score a run for Boston but he did improve dramatically through the season as he did have the lowest Strike-out percentage in the 2005 World Series at 31% for Boston.  He finished his Boston career  0-13 with 4 strike-outs.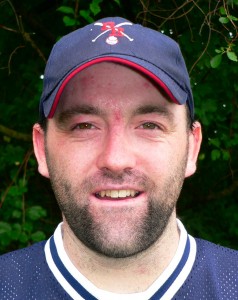 #22 Tom Walsh (2006)
Rover
For NBBA enthusiasts, Tom Walsh has been mistaken by many to look like Jeff Dell (who is considered one of the better players in the game).  Walsh busted onto the scene making an instant impact as a rookie.  He scored the second highest total of runs for a Renegade rookie (9) in 2006 and set a rookie record for lowest strike-out percentage (19%).  Walsh did this despite missing time to injuries and taking time off to attend guide dog school in the middle of the season.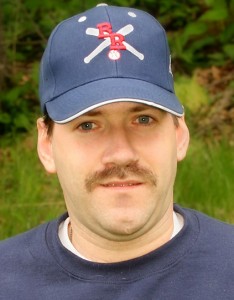 #10 JJ Ward (2003-2012 2015)
1st Base, Rover, Shorty
Ward fell in love with hitting. He spent the entire 2006 off season working on his swing in the batting cages on his own. That work paid off in 2007 as he had his best season ever. JJ scored 17 times in 2007 which almost equaled the 20 runs he had scored in the previous 4 seasons of play. The 2012 season may have been Ward's finest as he played in all 15 games and helped on both sides of the ball. Offensively he scored 17 runs and hit .309 (his 3rd highest batting average of his career) and he also contributed with 18 stops on defense for a career best.  JJ took time off after the 2012 season to take care of is new family and decided to come back to the team for the 2015 season.  Sadly, early in the season he broke three toes and was hobbled for most of the year but he played a key role off the bench for the Renegades in the World Series helping the team to its best finish ever (5th).  More family issues has taken him away from the game in 2016 and he plans to return in 2017.  He walked away from the Renegades ranked 4th all-time in games played (126), 8th in runs scored (94) and 9th in defensive stops (72).  JJ also hit .267 in his career with the Renegades.  He planned a comeback for the 2020 season when COVID robbed us of that season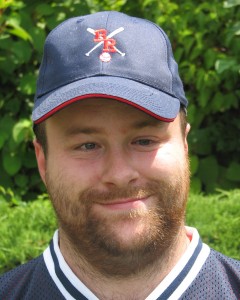 #28 Rich Welch (2007)
3rd Base
Welch was a rookie in the 2007 season to Beepball and the Renegades but was no novice to playing ball.  He had the most recent experience on the team in playing "sighted" ball as he had been playing softball with his co-workers with his visual impairment.  He quickly picked up the hitting part of the game but the defense was hard due to hearing loss he had.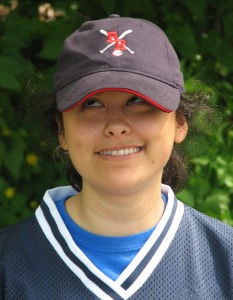 #35 Lindsay Yazzolino (2013)
Rover
"Yaz" is a common hall of fame Red Sox hero that many people in the area know.  But the Renegades refer to Yaz as Lindsay Yazzolino.  She came to us from the Seattle, Washington area after graduating Brown University in 2011. Another brain on the team. She was a research assistant in a cognitive neuroscience Lab investigating how blind people use brain areas normally involved in vision for cognitive functions.  We signed her after she saw our documentary in April 2013 and she had always wanted to know what it would be like to play baseball.  She was part of the squad that won the Long Island Classic as she appeared in two of those four games against the PA Wolf Pack and the Long Island Bombers.  That season, she was also one of three females to play for the Renegades (the most in history till that point).
The Coaches and Staff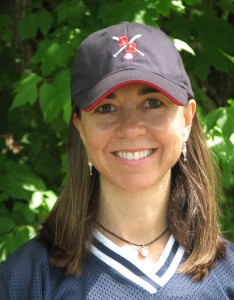 Lisa Andrews (2013-2020)
Running coach, Defensive Coach, Trainer
Lisa had been looking for an opportunity to volunteer and help the visually impaired exercise.  After teaming with Rob Weissman and Rick Myers on the volleyball court for a few years she was sold on the team.  From her first practice she showed the guys that she is an expert in the field of fitness.  Her specialization in injury prevention is something we desperately need.  Her competitive fire and drive that has helped their volleyball team win championships has fueled the Renegades to get into shape and improve their fitness! After her first outdoor work out with the team a long time Vet was quoted as saying, WOW! Rob, where has she been, she is great!"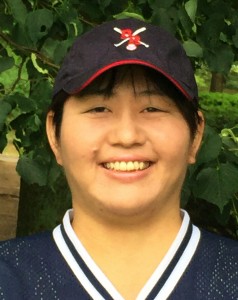 Yuki Ara (2015-2016)
Volunteer, Spotter, Catcher
Yuki was introduced to the Renegades during a SABR (Society for Baseball Research) meeting when the Renegades gave a presentation to the Boston chapter.  She was moved by the presentation and asked to become part of the program.  Yuki came to us from Japan as an avid baseball fan.  While in Boston, Yuki worked at Children's Hospital as a data Analyst.  Prior to coming to the states she worked in the medical field as a doctor.  In the two seasons Yuki spent with the team, she was a valuable asset and was part of our World Series roster in 2015-2016.  Not only did she help with our fitness and medical issues, she was at nearly every practice doing anything we asked of her.  She kept many records for us, scored many games and caught and called during many practices.  She even saw some action in the field in 2015 as a caller.  Sadly, Yuki left us after the 2016 season to move back to Japan.  We do hope she returns in the future and will always have a place on our squad!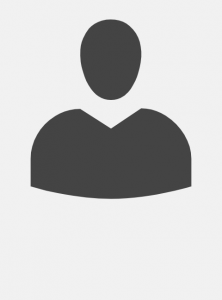 Marlon Banta (2004-2005)
Hitting Coach
Marlon joined the Renegades after hearing about it from his friend, Darren Black.  He was active with the Renegades in the 2004 season helping the team improve  its hitting.  He was also active in helping with some catching duties in practice.  Marlon was a calming influence on the players and loved the game.  He was also active in fundraising for the team in the 2005 season.
#42 Nick Bebas (2003-2010)
Hitting Coach and Spotter
Nick joined the Renegades in 2003 as one of the first volunteers Weissman brought on to the team. He joined the team to bring some needed baseball background to the coaching staff. Bebas was the first coach assigned to help players learn the fundamentals of the swing. During the games you could find him manning the on-deck circle, helping players prepare for their at-bat and in the field helping players align themselves in the Boston defense. Nick was one of the first coaches we ever put on to the field to help our spotters when we were in a one caller defense. He was the primary spotter in 2004 & 2005 and was on the field for us in the Renegades quest to become the winner of the Barbeque bracket at the World Series. Nick's calming attitude helped the players relax in the pressure situations. Nick left the team to raise his son in 2010 and we hope one day to have him return to the field.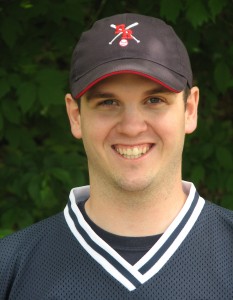 #22 Nick Chisholm (2013-2015)
Defense Coach/Spotter/Pitcher
Nick found us through a mutual friend of Joe McCormick's at Harvard University where they both attended school.  His baseball resume is very impressive as he played very high levels of baseball in Canada for team Ontario as a pitcher and a catcher.  He has pitched for the Harvard club baseball team and in the Boston Park league as well.  His competitive drive was a perfect fit as he enjoys scouting out his opponents to give him the upper hand in competition.  Nick helped the team on both sides of the game and was the first rookie coach to make an appearance calling in his first season helping the team win 4 games from the right side of the defense!  Yes, one more smart guy added to the Renegade coaching staff.  Nick showed promise as a pitcher during the 2014 season but his career plans ended up taking him out of Boston as he pursued his graduate studies in California in the spring of 2015.  Nick's ability to work both the offensive and defensive sides of the game was unique and when he left the team, he was the first coach in history to be successfully converted from a spotter into a pitcher.
#21 Dan Cotter (2002-2016)
Pitcher
Some call Dan Cotter fearless. That is good, because it takes a lot of nerve to stand 20 feet from a batter as they are trying to wail on the ball. Dan played this spot with no protection at all. Yes, we said, no protection! Cotter had the longest tenure of any coach on the staff before leaving the team in 2016. Dan got his start with the team as the catcher in the 2002 World Series. In 2003, he became the team's pitcher. Danny was one of two Renegade pitchers who have let up 100+ runs in his career at the time he left the team. Cotter did what it took to win. He stepped up when needed and was the pitcher who led the Renegades to the 2012 Haddonfield Lions Classic championship with 3 wins. His .395 average in that tournament was his best ever as he battled two games in the rain to lead the Renegades to wins over New Jersey, York and Pennsylvania.  This team relied on Danny for so many years.  We rode his back during the 2003 & 2004 seasons as he was the number one pitcher.  From 2005-2016, he pitched more batting practice than any other pitcher on the roster and we are forever in debt to him for helping get this team off the ground.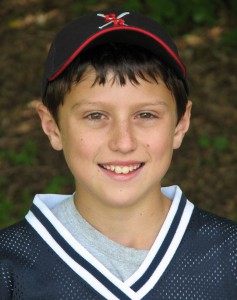 Seth Cutler (2014, 2019-2021)
Base Running Coach
Seth returns to the Renegades after being a part of the team as a 12 year old in 2014.  He has not been a stranger during these times as he did umpire games at the beast of the east in 2017.  when Seth was with the team last he caught and shot a lot of video for the team.  Now he brings experience to the team as a runner for Lexington High School where he competes in distance events.  Seth loves the Renegade culture and how much respect there is between the players and coaches and wants to be part of this community where the group is working together to compete.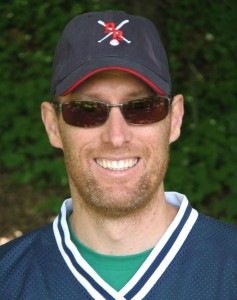 Brian Cutler (2014, 2019-2021)
Base running coach, Defensive coach
Brian was looking for a volunteer opportunity for his son Seth and found the Renegades in the New England Baseball Journal in 2013.  He kept that in mind and reached out to us in spring of 2014 seeing how Seth could get involved.  We roped Brian in as well and the two of them enjoyed a father/son volunteer activity.  Brian is an athlete as he competes in triathlons.  He has pretty much done anything we ask at practice including hitting grounders to the defense, working with hitters on a hit stick, helping base runners, shooting video and much more. Life got in the way and the Cutlers took a step back from the team but never forgot the experience.  They both helped out at the Beast of the East in 2017 and Brian appeared at a few functions.  In 2019, the Cutler crew returned and even multiplied as they brought in a family friend to volunteer!  Brian was also part of the military as a tank platoon leader and a mortar platoon leader in the VT National Guard!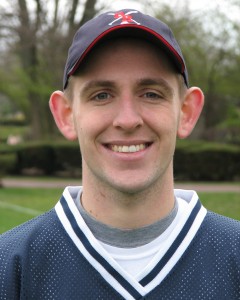 #49 Jamie Dickerson (2014-2021)
Spotter, Pitcher
Jamie joined the Renegades in 2014 as another volunteer from Harvard University.  Jamie found us through Renegade, Joe McCormick and has been friends with other coaches Joe Bourque and Sean Sweeney since middle school.  An avid Ultimate Frisbee player, Jamie brings a competitive spirt to the team and a desire to do something that is rare in our volunteers…Pitch!  Jamie quickly learned both sides of the game.  He worked hard to become one of the best callers in team history and was on the right side when the Renegades made a run at the title in 2016.  Thru the 2021 season, Dickerson led the team to a 32-7 record when he called.  Jamie also became a valuable pitcher and was our starting pitcher for many regional tournaments.  He ranks third all-time in runs (153) allowed and second in batting average (.393) Renegade history.  Jamie left the Boston area in 2019 for employment in New York.  Despite leaving, he took the field with us in Albany when we played Rochester in 2021.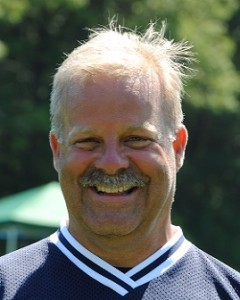 #39 Joe Duggan (2011-2012)
Pitcher
Known to all of the Renegades as MR D. He officially joined the team in 2011 as a volunteer. Mr D had been around the team due to the fact his son, Joey has been playing since 2009. The guys loved the fact that he could hit the ball with authority to the team when they were taking defensive practice. He was a big addition and pretty much filled any role  from setting up the bases, hitting grounders, working base running and helping out with the hit stick.  He even helped us repair our bases off the field with his electrical skills, helping us save money on new bases. He was the first ever father of a player to join the team. In 2012, he tried his hand at pithing and became the 7th person to toe the rubber in a game (and first lefty) in the Renegades history. His highlight was hooking up for a run scoring hit with his son against York which was one of 4 runs we scored against him in just 9 at-bats
#12 Dave Fardo (2006-2008)
Hitting Coach
Dave Fardo found beepball through his classmate at Harvard, Justin Manjourides.  Fardo brought a strong baseball background with him from Kentucky.  He  made an instant impact in working with rookies and veterans to teach them the fundamentals of hitting.  Fardo's background and teaching ability made him an impact coach from day #1.  He was found working on swing mechanics at all of the Renegade practices and truly helped with the mental approach of hitting.  Dave left the team after his PHD studies to move back to Kentucky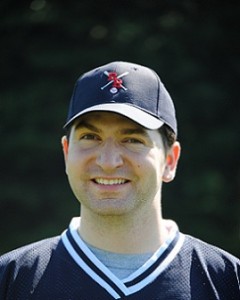 #47 Raphael Ferry (2011-2012, 2015)
Hitting Coach
Raph joined the team midway through the 2011 season after hearing about the sport from coach Justin Manjourides. Raph is an avid baseball player and a fan. His baseball pedigree surpasses all of the other Renegade coaches as he pitched for Tufts University. He also added more of an international flavor to the team as he is a resident of Switzerland. While there, he actually played on the national baseball team. Raph's presence was a blessing for the team as he was looking for a rewarding volunteer activity and found one that matched his passion for baseball. He helped all of the hitters with their swings and was a constant presence at practice. We were lucky to get his pedigree on our coaching staff. Raph left the team and the country mid-way through the 2012 season to pursue his MBA in Europe.  Raph returned to the Renegades in the 2015 season as a part time Volunteer to help out the team despite having a work week that exceeds 60 hours a week during "easy times".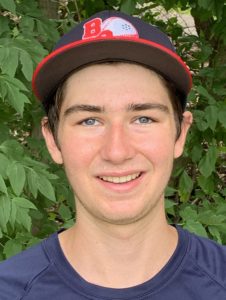 Alasdair Fletcher (2019-2021)
Base Running Coach
"Big Al" as he has become known, comes to the renegades from across the pond. Alasdair was born in Manchester, England, and moved to the United States a number of years ago. Alasdair learned about the team from Seth Cutler, who also volunteers with the team. Alasdair brings a plethora of running knowledge due to his experience as a cross country runner and track star. This knowledge will surely help the Renegades succeed and get into impressive shape.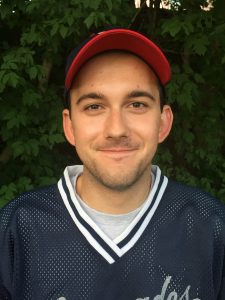 Max Goder-Reiser (2016-2019)
Volunteer
Max joined the Renegades weeks before the games began in 2016 and fell in love with the sport.  He first heard about the Renegades and Beep baseball at a SABR metrics conference where one of our coaches was discussing the statistics of the sport.  Max kept this in his mind for about 6 months and joined us guns ablaze!   Max put his stats background to use helping us score games, and helping with swing analysis tools.  At practice, Max worked base running and defensive drills.  Max also helped with Facebook live broadcasts and used his stats connections to help host a reading of the book, Beep, Inside the Unseen World of Baseball for the Blind.  Max left the team after the 2019 season to become another Renegade to attend medical school at Boston University.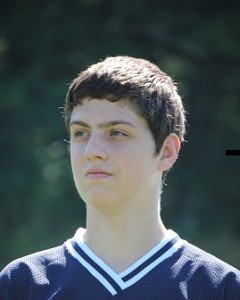 #18 Kether Gunn (2011)
Catcher
Kether became the youngest Renegade volunteer in 2011 as he joined the team while still in high school.  He also became the youngest Renegade to ever travel with the team when he went to Long Island during the 2011 campaign. Kether helped the team out on the offensive side of the game by catching batting practice and helping out with manning a hit stick. Kether was a presence at a few fundraising events for the team and the important thing is that he learned all about volunteering and giving back at a young age.
Brandon Jewer (2018)
Volunteer
Brandon found about Beep baseball from one of his Stonehill baseball teammates, Robert Minton.  He joined the team in late May, 2018 and quickly fell in love with the game.  Jewer was a pitcher at Stonehill who brought it with a fastball that clocked  over 90 MPH.  This billerica resident was also bringing it on the beepball field, but with his bat.  Brandon learned the defensive side of the game and this six foot four pitcher hit the ball harder than most players in the league. That was great practice for a Renegade defense that was prepping to field bombs off the bats of the best teams in the world.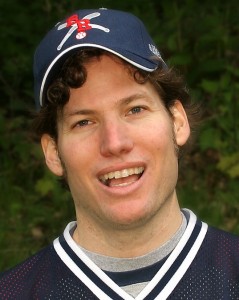 #34 Steve Kasha (2003-2007)
Defensive Coach, Running coach, Pitcher, Spotter
KASHA…KASHA…KASHA. That was the team cry as Steve helped the 2004 team pick up their first win as he helped the team with its best relief pitching outing in team history. In only his 2nd game as a pitcher, Kasha took the bump and helped lead the Renegades back from a big hole against the Chicago Bluff. Steve became a full-time coach in 2003 where he got his start as a spotter and running/defensive coach. In 2004 and 2005 his focus turned more to pitching. He was a major player in 2 of the 3 wins in 2004 as he was also the starting pitcher in their win against the Rocky Mountain Eagles.  Kasha was instrumental as a volunteer as he led many "Kasha practices" to help players improve their hitting.  When Kasha left the squad after the 2007 season, he ranked 2nd all-time in batters faced (437) and 14 years later still ranks third all-time!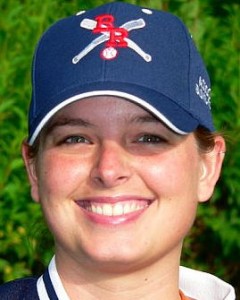 #31 Kristen Kirk (2006-2010)
Defensive coach, Running Coach
Volunteers can be found in many places.  Kristen was discovered after talking to Luis Marquez on a public bus.  It all started innocently with a conversation about his dog, Xion.  By the end of the 2005 season, Kristen was very interested in helping out the team. Kristen's attention to detail (as an accountant at Mass Eye and Ear) has paid immediate returns in helping the team stay organized.  Committing herself to a bunch of strangers for 20+ dates of practice proves that accountants know how to socialize.  Kristen was instrumental in the Renegades fundraising efforts as she helped the team set up numerous on-line fundraising campaigns and helped the team get some grants to support the team.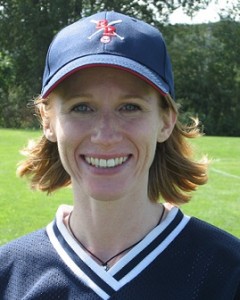 #8 Lisa Klinkenberg (2011-2013)
Trainer, Running Coach
Lisa brought a unique set of skills to the Renegades and something the team benefited from early on. Lisa is a nationally certified group fitness instructor and a yoga instructor. Combine these experiences with the fact she has a degree in physical therapy and she was a good fit for the team. Lisa helped the players with their stretching, base running and even with some injuries. She became an important factor helping players with body mechanics so they could be more aware and improve their skills on the field and was a driving factor in helping some of the newer players grow quickly and improve their skills.  Lisa was with the team at the 2013 World Series.  She left the squad after 2013, but her legacy lives on as she encouraged all three of her kids (Calista, Hunter and Teigan Weissman) to volunteer with the team.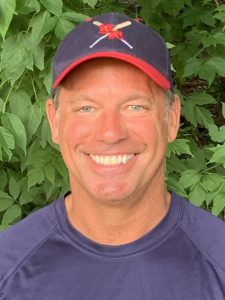 Michael Koenig (2019, 2022-)
Running coach
Mike found the Renegades through an ad within IBM's community outreach program.  That add had been running for years and Mike was the first one to respond.  Mike jumped right in with two feet from his first practice with the team.  He has coaching experience as he coached both football and lacrosse.  Mike works at IBM working to help HR departments use cognitive software to help them better perform their roles.  His skills at IBM, outgoing personality and love of sport will help him be a great fit with the Renegades despite his love of the New York Yankees.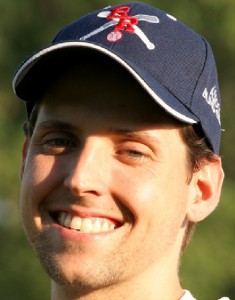 #00 Justin Manjourides (2005-2015)
Defensive Coach, Spotter
While getting a graduate degree at Harvard University in Bio Statistics, Justin was asked to see if he could apply his brain power to the sport of Beep Baseball. Justin put 11 years into the squad in his tenure and was a big part of many World Series coaching staffs during that time. . Justin worked very hard to help the Renegades develop a new defensive plan for the 2006 & 2013 seasons that we still use today. Justin called in 74 games during his career and tallied a 40-34 record in that time calling on both the right and left side of the field.   He was the left side caller when Justen Cantan was named to the All Star team and was on the right side when Guy Zuccarello was named defensive MVP in 2012 and an all star in 2013.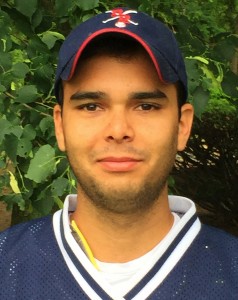 Fabrício Martinique Caldas (2015-2018)
Volunteer
Fabricio found out about beep ball from his brother in law, Rob Weissman and in 2015 he decided he wanted to get active and be part of a team again.  Fabricio is of Brazilian blood where baseball is not popular but he brings a competitive spirt to the team.  Fabricio is very active and into fitness and can be found working out with the guys on the field.  He has also helped out off the field with projects and fundraising during the afternoon when his baby daughter is sleeping.  He came to the team when we needed to finish off some projects and he has been a big help willing to take the ball and run.  Fabricio moved to Rhode Island, making it harder to be on the field with the team.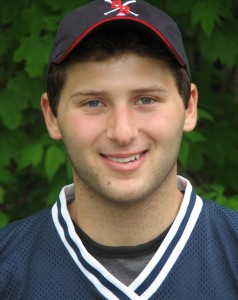 Danny Meltzer (2013)
Hitting Coach
Danny Meltzer joined the team in 2013 just before he graduated Harvard and moved to Israel.  Though he was with the team for just 2 months, he made an instant impact on our hitting.  He taught us a new way to explain how to keep players weight behind the ball, something that really resonated.  Meltzer is an accomplished baseball player and coach as he managed the Harvard Baseball Club team.  He also spent two summers in Vietnam working with the Vietnamese youth baseball team.  His ability to work with non-English speaking Vietnamese players honed his communication skills to then work with players who could not see him.  Though just with us for half a season, Meltzer left his mark on Renegade hitters and coaches!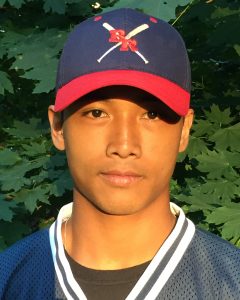 Chhany Minton (2018)

In the spring of 2017, Minton was walking through the Prudential Center inBoston when he came across a volunteer fair and ran into the Renegades.  At the time, the team was looking for game day umpires for the Home tournament.  Minton expressed interest but was unavailable on that date.  During the winter, this Stonehill College student and outfielder for their varsity baseball team expressed interest in becoming a coach.  His excitement grew and he recruited his teammate, Brandon Jewer to help as well.   Minton's knowledge of hitting, love of photography and knowledge of baseball technology and analytics helped him be a great fit for the team.  He left the team after the 2017 season to take an internship out of state.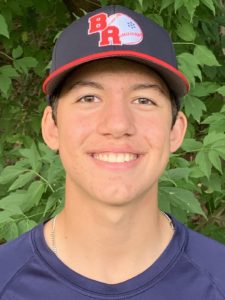 Gavin Moser (2019)
Hitting Coach
Another member of the 2019 coaching youth movement, Gavin came to us from Wayland. He found out about the team from another of our volunteers Josh Schreiber, who is family friends with Renegade alumnus Evan Silver. Gavin brought some high quality baseball knowledge playing high school baseball at a very high level.  He was recruited to play Shortstop for Brandeis.  Whether it be coaching hitting mechanics or using his own hitting abilities to test the defense, Gavin was a huge asset to the team and a big reason our defense was ready to play ball during its run to third place in the 2019 World Series.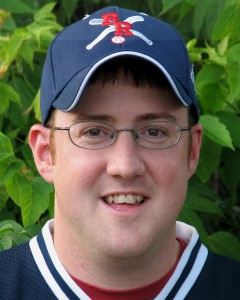 #25 Matt Nippins (2006-2011)
Defense coach, Spotter, Trainer, Catcher
Since 2000, Nippins had season tickets in the bleachers next to Weissman and Grillo. He heard stories of the Renegades for years until one day at work ,he bumped into a co-worker asking her about her hat. In a small world story, he quickly found a link to his co-worker (Carolyn Tassini) and his seats at Fenway. His deep love of baseball and these friendships kick started him into action with the Renegades in 2006. Nipps was willing to do anything at practice including coaching all aspects of the game. He has found a love for the defensive side of the game and you could hear him breaking balls (literally and figuratively) at all of the Boston practices. Matt was a regular coach at the World Series from 2007-2010  and was 18-14 when calling games from both sides of the field.  Matt was also a huge presence on the medical side of the house.  He helped many Renegades with injuries and their medical needs at practice and while traveling.  Matt left the squad to raise his children but we have hopes he may come back to us when they get older.
Jeff Paladino (2009-2012)
Special Assignments, Hitting Coach
Jeff joined the squad officially as a hitting coach in 2009. It was an easy transition for him because he had been around the team since his wife joined the team in 2006. Jeff had been acting as the team's umpire prior to joining the staff. During a game between Boston and the Pennsylvania Wolfpack, Jeff quickly learned that beepball has some different rules. During one of his first innings as an umpire he just missed having a nasty collision as a Renegade player ran down the third base line trying to score a run. In baseball, players don't run from home to third but in beepball its a common occurrence. Thankfully, everyone was safe and collisions were avoided. Since the birth of his son, Jeff took some time off from the Renegades but was been available to help out at a few practices to stay involved. Once his second son was born, he retired from the Gades and eventually started coaching his kid's teams in Waltham.
Kara Peters (2013-2020)
Defensive/Running coach
Kara has been a Renegade follower for a few years and in 2013, joined the team.  We have worked with her in the past as she has run some beep ball camps for kids at the Carroll Center for the Blind.   Professionally she works with visually impaired kids from 3-22 years of age as a certified orientation and mobility specialist.  We have hopes this partnership will help us reach/recruit kids and help them see what is available for them to play.  Kara brings a love of team sports, a competitive desire, knowledge of softball and a degree in Physical Education with a concentration in Motor Development Therapy to the Gades.  We will put all of this to use to improve the team!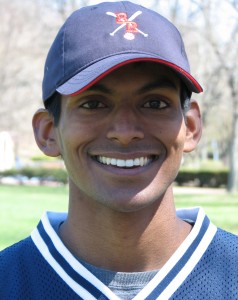 Sudheer Poluru (2014)
Hitting Coach
Sudheer became the 3rd student from the Harvard University Baseball Club team to join the coaching ranks.  This Chicago native had opportunities to play Division 1 baseball as a third baseman but instead opted for academics at Harvard.  He added more depth to the smartest team in the league as he received a degree in economics and psychology.  His baseball pedigree helped the offensive production of our team and his can-do attitude was exactly what we needed from our new coaches!  Sudheer left the team after one season to focus on graduation with plans to move away from the area.  He promised to support us when we travel to his home city of Chicago!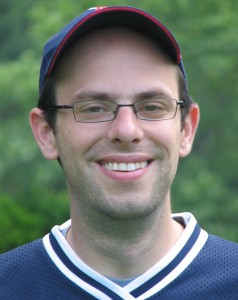 #6 Aaron Proctor (2009-2011, 2017-2019)
Spotter, Traveling Secretary
Aaron joined the Renegades half-way through the 2009 season.  He spent the first half of the season observing the team before deciding he was interested in helping out.  Aaron spent most of that season as the team's umpire learning the ins and outs of the game.  Beyond umpiring, Aaron has helped the team with a few off the field projects including helping us find ways to save money through grants and some ingenious out of the box thinking.  He also has helped create marketing material for our fans.  Aaron stepped up his game with us in 2017.  With his vast experience in traveling, he helped set up most of the Renegades travel plans and saved the team more than $10,000 with grants toward flights from his company, JetBlue.  Aaron also stepped up and learned to be a spotter with the defense and led the team to a 22-1 record when he was on the right side of the field.  Aaron stepped away from the team after the 2019 season to pursue his travel interests during the summer. See Aaron appear on 
Fox25 Sportswrap in 2018
, 
NESN in 2018
 and on 
Comcast in 2010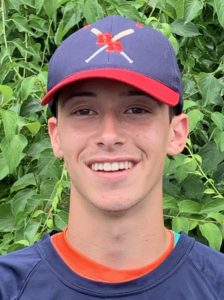 Josh Schreiber (2019)
Volunteer
Josh got his taste with the Renegades when he was very young.  As a family friend to former Renegade, Evan Silver, he came to a few practices to shag Batting practice balls.  During the winter of 2019, he recalled his time with the team and reached out asking to volunteer in an official capacity.  This Wayland High School student was playing on the Varsity baseball team as an outfielder, pitcher and first baseman. His excitement to volunteer led him to recruit his teammate and friend, Gavin Moser.  Josh did anything we asked of him at practice from working with hitters, the defense and catching batting practice.  Josh planned to return for the 2020 season but that was robbed by COVID.  He was too busy to return in 2021 as he was preparing to attend UMass Amherst.  We have hopes to get him back on the field in the future.
Lucas Schwallie (2015-2018, 2021-2022)
Hitting Coach
This 16 year old found out about the Renegades in 2014 when he stopped one of our players on the street, out of pure curiosity how a guy with a walking cane could be wearing a uniform and holding a bat.  A year later, he remembered this and reached out to us to ask if he could volunteer.  By the time he got to his second year with the team as a 16 year old, the Renegade players were taking direction from him because they could see he knew his stuff and was able to teach them how to swing. that work continued till he took some time off from the team as he left to attend College at Claremont McKenna College in California.   He was coaxed back to the team in 2021 and didn't miss a beat.  In fact, Joe McCormick credits Lucas with a tweak to his swing that led him to one of his best seasons at the plate.  When Lucas is not at school or coaching, he is working to run his podcast called
Hangtime Headline
s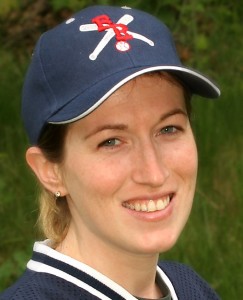 #4 Emily Snow-Bebas (2004-2007, 2010)
Running Coach
Snow joined the squad as a coach in 2004 after hearing about the game from other coaches.  She stayed with the team on the field until the end of the 2007 season and then returned for 2010 as Snow-Bebas (after getting married to coach Nick Bebas). She helped bring the testosterone level down a notch, and kept both the players and coaches in check. Her perspective was welcomed to the team as she helped players see their potential. On the field, Snow did a lot of work to help players with their base running.  She left the team after 2010 to start a family with her husband Nick and she has two children now.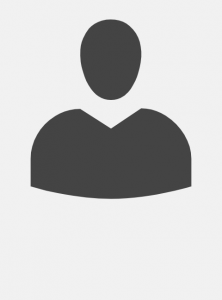 Brenda St Germaine (2003)
Spotter
Brenda came to the Renegades when the team in Lowell folded in 2003.  She had a wealth of experience working with many of the Renegades at this time including Ron Cochran, Bryan Grillo, Joe O'Neill, Luis Marquez, Rob Weissman and her husband, Bob who all played in Lowell.   Brenda was a driving force in Lowell and did so much to get beep baseball on the map in the area.  Brenda was the Renegade's primary spotter in 2003.  In these days, the team deployed a single caller 6-zone system and Brenda was in charge of it all.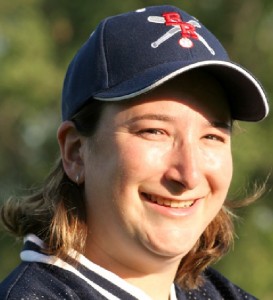 #25 Carolyn Tassini (2005)
Defense Coach, Trainer, Spotter
Carolyn came to the team for one short year in 2005.  She found the team on the web at a website called volunteermatch.com.  It was a match made in heaven as she made an instant impact on the team and the sport made an immediate impact on her life.  Carolyn brought her athletic training background to the team and was able to help keep players on the field through many ankle injuries in the 2005 season.  Carolyn left the team after the 2005 season when she moved to Philadelphia.  Her love for the game carried over and she coached and spotted for the Pennsylvania Wolfpack for the 2006-2008 seasons.  While with this new team, she always kept in touch with the Renegades and never forgot where she found her love of the sport.  She started a relationship with the Haddonfield Lions club and they hosted every tournament held in the Philly area from 2006-2019.  She was often at our games when we came to play in Philly just to catch up and say hi to her former teammates from Beantown!
#5 Jacki Taylor (2008-2010, 2015-2017)
Base Running Coach, Spotter
Jacki joined the Renegades in 2008 and embraced the team quicker than any other first year coach.  Not only was she at every practice helping to improve the Renegades base running, she was a driving force behind the scenes.  She worked with many of the players outside of practice to help them get into shape.  She was one of the "guys" in the weight room as she could be found yelling at players to get extra reps out of them.  She made a very quick impact and has helped players on many different levels on and off the field.  Sadly, Jackie had to step away from the squad but returned in a part time capacity in 2015.  Jacki called during the 2009 season and the team was 6-2 with her on the field.  She was also on the field in Bolingbrook, when Dino Vasile won a defensive award.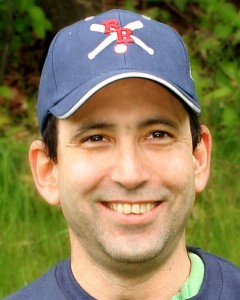 #13 Dean Vasile (2011-2013)
Defense Coach
Dino was the first player to make the transition from player to coach in Renegade history.  He helped coach the team in 2011 and had hopes of playing full time again but was unable to due to family obligations.  He loves the sport and working with the players and coaches.  Dino has a knack for motivating his teammates and his skills as a two way player (and our lead-off hitter for a few years) transfer to the coaching side of the ball.  Dino helped the Renegades improve their ability to play defense and guided both rookies and seasoned veterans.  We hope he opens the door for other legacy Renegade greats to come back and coach because the team has a lot of experience sitting in the retirement homes.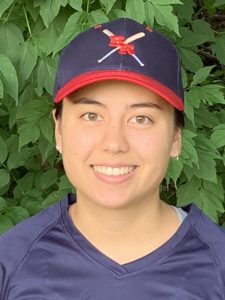 Kim Vermilya (2019-2021)
Running and defensive coach
Kim joined the team in 2019 along with her mother.  She heard about the Renegades from veteran coach Lisa Andrews. Kim graduated recently from UMass Amherst with a degree in kinesiology. She spent a lot of time at practice working with base running, defense drills and shooting video for the squad.  Kim even recruited a new volunteer, Tom Albertson to join the team for the 2020 season which was lost to COVID.  Tom did join the squad for part of the 2021 season based on Kim's recommendation.  Kim left the team during the 2021 season to attend medical school in Albany, NY.  We were able to hook up with her in the Fall of 2021, and she took time away from her studies to umpire a game between the Renegades and Rochester (it was the first time she had ever seen a game played live).  Kim was the first ever mother/Daughter tandem in Renegade history as they both coached together during the 2019 & 2021 seasons.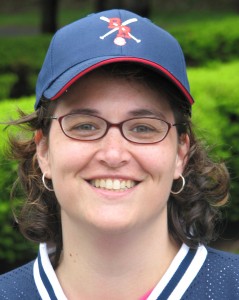 #12 Laura Ward (2009-2013, 2019-2021)
Defensive/Running coach, Spotter
Laura was just looking for anything she could do for the team in 2009. She found a niche as a volunteer for the Renegades. She can be found doing just about anything. Laura has been instrumental in helping organize some of the teams' fundraising events. Laura is the ultimate team player and is willing to take on anything for the team. She is one of the main reasons the Renegades will be hosting their first ever four team tournament in July because she has the drive to make it the best event the Renegades have ever had. Laura wanted to do more than fundraising and learned to call in the Renegades defense. Since the Gades moved to a two caller system in 2010 Laura has called the third most amount of games, calling 20 games from the right side before she left the team in 2013. See Laura talk about
how she joined the team and what it means to her
The Volunteers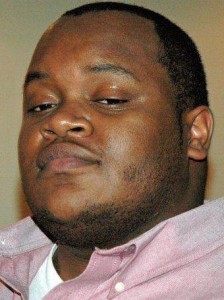 Chuba Arah (2014-2015)
Marketing and Special Projects
The 4th Volunteer to come to the Renegades from IBM is Chuba Arah.  Chuba is a huge baseball fan who comes from Nigeria.  In the fall of 2013, the Renegade documentary played in his hometown of Randolph.  He came out to watch the film and was inspired.  That inspiration turned into an interest in volunteering.  Chuba confesses he does not have much of an athletic prowess, but he has strong technical skills.  We do hope some day he will help us on the field if his schedule will allow but in the meantime he has already helped us with some back end projects.  Chuba helped to get our mailing list up and running, assisted with some web site back end work, updated our youtube accounts so we have our own channel and even came back to umpire in a tournament for us in 2018.
Karin Barrows (2017)
Recruiting
At an event at the Carroll Center for the Blind in the fall of 2016, we met Karin Barrows. She had a passion for helping blind and visually impaired people stay active and play sports and wanted to get involved with the team. She signed on with the Renegades early in the 2017 season in an off the field role to help us recruit new players. As an employee of the Carroll Center, she had the connections and the desire to make this happen. Karin helped people who like to play sports find our team and our sport.  Karin left the team at the start of the 2018 season after the birth of her son.  She has said she will always be a Renegades fan.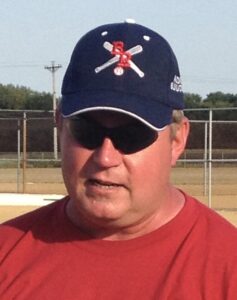 John Crawford (2013-2014)
Volunteer
In 2013, the team was close to not going to the World Series but John Crawford stepped up to the plate to help.  One unique aspect of this volunteer's biography is his residence is in Ames, Iowa.  Without ever meeting any of the Renegades, he volunteered to take a week away from his business to help the Renegades during the 2013 World Series.  He helped the team warm up on defense, helped on the bench, ran the on-deck circle, gave pep talks, acted as a true host to his hometown and even took our dirty uniforms home to be laundered.  After the series, John helped us design marketing literature, printed it for us and 7 years later it's still in use. In 2014, the Series came to Rochester, MN and John drove up and manned the on-deck circle for us at one of our games there.  His willingness to help a bunch of strangers will never be forgotten.  We lost John to Cancer in 2021. 
See our tribute to him here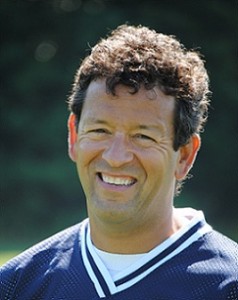 #40 Trent Davis (2011)
Volunteer
Trent joined the team in 2011 after having ties to beepball over the years. In 2000, Trent actually played in a game against Weissman's Lowell beepball team. It was here where he gained an interest in the game. In 2008, he volunteered to be a field ump for the team in a double header against the PA Wolfpack. With long time friendships with Rob Weissman, Bryan Grillo, Rick Myers and Nick Bebas he joined the Renegade staff. Trent was helpful in all aspects of the game for the team as he helped out by hitting grounders, manning hit sticks, catching and being the type of volunteer willing to try anything.
Bill Le (2011-2012, 2018)
Photographer, Web Site admin
Any avid Red Sox fan equates Bill Lee to a famous lefty who stood on the mound for the sox in the 70's. That Bill Lee was famous for shooting off his mouth with famous remarks like calling his manager, Don Zimmer, a Gerbil. Well, that's not the same guy. This Bill can be found shooting photos of the team. Photography is a passion of his. Bill also helped the team by updating and improving the back end of the web site. Bill's photos have been used to help promote the team and help players get grants to help cover expenses of the team.  Bill still keeps tabs on the team and has hopes to make it to big events to take photos in the future.
Corey Michelson (2014)
Volunteer
Corey joined the Renegades in the middle of the 2014 season.  He brought with him a strong baseball background as he played club baseball at the University of Maryland where he had just finished his Freshman year.  Corey jumped in and helped the team's offense by working with players swings.  He also helped out the defense with his ability to hit bombs to the deep outfielders. The amazing thing about Corey is many of the times he came to practice, he did it with a two hour round trip commute.  We appreciated his dedication and commitment and he used this experience to help him get into medical school at Tufts.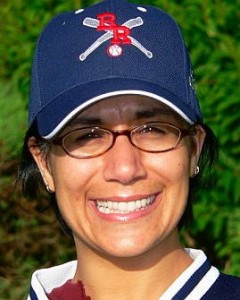 #8 Nikki Myers (2006-2007)
Running Coach, Photographer
After coming to watch Boston's home game against Long Island in 2005, Nikki was amazed and anxious to be a part of the Renegade family in 2006.  Though she was already part of the family simply by her marriage to Rick Myers, she wanted to be actively involved.  In 2006, she took the plunge and helped where ever she was needed.  Her love of photography gave her and the team a great opportunity to document the season. Her photos have been in use for many years as she took so many shots during the early part of the Renegade life cycle.  Nikki left the team to start her family with her husband Rick.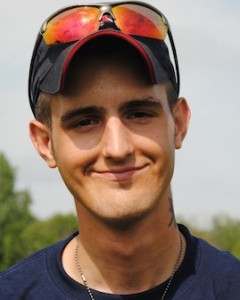 Jerrid Parent (2012)
Volunteer
Jerrid joined the team with his girlfriend ReBecca as he worked with Joe O'Neill's mom. Jerrid played baseball in High School (which was not that long ago for him when he coached). He is a take charge guy who quickly learned the sport and was always willing to help out. Jerrid was a huge part of the team in 2012 as he was often called upon to use his arm to keep the team defense prepared. You could always easily spot him at practice because he wore jeans even when it was 90 degrees out. Jerrid did anything the team has asked him to do ..and did it well.  His presence during the 2012 season was clutch as we were very short on volunteers that season.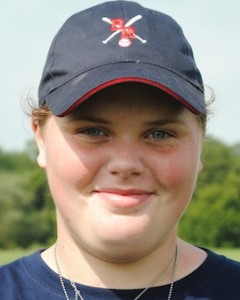 Rebecca Dree Parlon (2012)
Volunteer
Rebecca joined the team at the start of the 2012 season as she heard about the sport from her co-worker who is Joe O'Neill's mother. Rebecca played softball when she was younger and was actively involved in youth cheer leading. She had a can-do attitude and helped the Gades in 2012 doing anything she was asked from being part of team defense to catching to helping out in just about every drill the team did. ReBecca was not responsible for any of the Renegades cheers but we always wanted her help as she may be the only Renegade in history with a cheer background.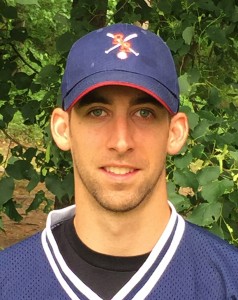 Alex Pedicini (2015)
Volunteer
Alex found out about the Boston Renegades through a customer of his at his company, Ubersense.  This customer actually spent a week volunteering at the 2003 World Series in Colorado and many years later helped the Renegades introduce video analysis to their coaching repertoire.  Enter Alex Pedicini.  Alex came out to see the Renegades in 2014 to shoot a video on the Renegades to be used to promote Ubersense and how its clients get use of their product.  Alex has one of the most interesting baseball backgrounds in Renegades history as he was formerly a scout for the New York Yankees where he did advanced scouting and analysis of their upcoming opponents.  Alex worked for Ubersense during his tenure with the team and helped the team take full advantage of the video analysis tools.  In Alex's first practice with the Renegades he worked with a new prospect and helped him to actually make contact with the ball in his very first batting practice which is always a super rewarding moment.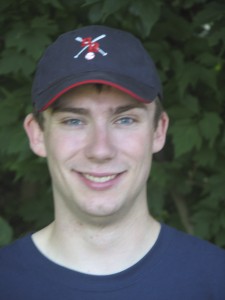 Sean Sweeney (2013)
Volunteer
Sweeney joined the squad midway through the 2013 season after getting back from studying abroad in Spain as part of his international relations degree at William and Mary University.  He also minored in Hispanic studies.  We were hoping to put his language skills to a test as we almost had a recruit from the Dominican Republic who was more comfortable speaking Spanish.  Despite missing the first half of the season, Sean fit right in.  He came to the team through Joe McCormick and brought a sports background to the squad as he played baseball until he turned 15 then turned to track in High School.  Sean helped the team in many areas including catching BP, hit stick work and hitting grounders to the defense.  He was a constant force at practice and we were fortunate to have him for half of a season.  Sean left the team when he took a job in DC following his graduation from William And Mary.  We wish him the best as he starts his career in politics!
Calista Weissman (2011-2013, 2020)
Volunteer
Calista was the youngest volunteer we have ever had.  At just 9 years of age this go getter started volunteering for the team. The niece of coach Rob and daughter of Lisa Klinkenberg. Calista is not shy. Calista got her start helping the team with basic things at practice such as getting paperwork filled out, working the base switch, working drills with the defense. Her outgoing attitude made it easy for a little kid to fit in with the Renegades. She came back to the team in 2020 as a Senior in High School and helped the Renegades with some of her video editing skills.  These talents have turned out some great fundraising and coaching videos for the team.