The Renegades are built of a team of blind players and sighted volunteers. One thing that makes beepball somewhat unique is the fact the coaching staff acts as both coaches and part of the team. Our sighted help teaches strategy, implements game plans and teaches fundamentals. The sighted help also contributes on the field. Offensively sighted coaches pitch and a catch, acting as a team to help the player hit the ball. Defensively, we have sighted help on the field to help position players and call zones when the ball is put into play, these people are called spotters. The Renegades view the players and coaches as one team.
The Players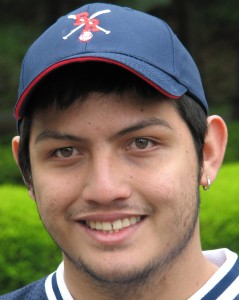 #37 Shayne Cantan (2009-2011, 2013, 2015, 2021-)
3rd Base, Midfield, Rover
At just 19 years old, Shayne was the second youngest player in Renegade history in 2009. He had been playing High School sports with sighted kids despite being visually impaired. Most recently he was the co-captain of his high school football team in Hawaii where he played offensive lineman. Playing line in football has transferred into beepball. His power on the line has become power at the plate. In 2009, he shattered every rookie record held in Renegade history on the offensive side of the plate by leading the team with 25 runs and hitting .463 which was the 3rd best average of any Renegade in a single season. Shayne then topped this in 2010 setting the all-time Renegade record for batting average in a season at .617 with 50 runs scored. It does not stop with his bat as he is one of the best two way players in team history.  See a quick video of Shayne introducing himself 
here
.
Awards: 2010 Bolingbrook Offensive All-Star 4th place .625 (10-16)
2010 Long Island Classic Offensive MVP .643 (9-14)
2010 Beast of the East Offensive MVP .710 (22-31)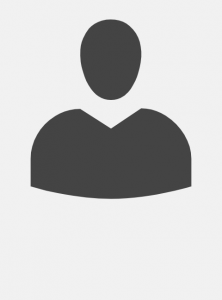 #63 Nick Claudio (2023-)
Shorty
Nick Claudio became a Renegade in the fall of 2022.  He had met the team  a few times in the past but the timing seemed right to join the squad for the 2023 season.  2023 was a big year for Nick, as he graduated graduate school and started his first job.  He also became a beep baseball player and started to learn the sport.  Nick has a keen ear and has some of the best hearing we have ever had in a player as he can locate sound very well.  That skill translated quickly to defense.  Offensively, Nick was making contact and hitting fly balls from the first time he stepped on to the field.  One impressive feat Nick has accomplished in his life is climbing Mount Kilimanjaro.  We hope one of the the next thing he climbs is helping the Renegades climb back to the championship game in the future!
#47 Drew Crook (2019-)
3rd Base
Andrew Crook caught the bug when he played in a beepball exhibition game against the New Hampshire Fisher Cats in the fall of 2018.  Excited to take it to another level, he found the Renegades and got involved with the team during the off season.  He will have one of the longest commutes on the team as he lives in Manchester, NH but he says that will not deter him and he is fired up to be a Renegade in 2019.  Drew has one of the biggest bats in team history as he can hit the ball a country mile and he breaks many beeping balls, making him an expensive player to have on the team.
Meet Drew in a Renegade video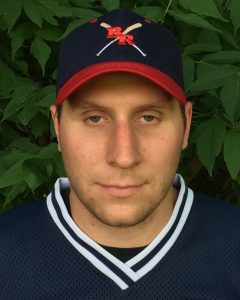 #53 Shawn Devenish (2016-)
MidField
Devenish graduated Westfield State with a degree in physical education in 2014.  He had extensive experience playing sports in High School with his vision loss against sighted opponents.  He was a three year tight end in High School for his football team. He also ran track where his events included the 4×100 relay, 800 yard dash, shot put and discuss. He found the Renegades doing a google search looking for activities to participate in as an adult with vision loss. He helped get the Renegades to its first ever National title game in 2016, his rookie year.  He currently works as a physical education teacher in his hometown of Salisbury, Mass.
Awards
:
2019 World Series Offensive All-Star 4th place .717(33-46)
See 
Shawn talk to the Boston Herald in 2018 , 
appear on
Fox25 Sportswrap in 2018 
and
address the team in 2019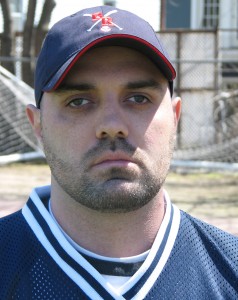 #18 Rob Dias (2014-)
Midfielder, Shorty
Imagine shopping at a mall and having someone come up to you to talk about Beep baseball.  Thats how we recruited Rob Dias from Somerville. Coach Bryan Grillo saw a star in his eyes and just went up and started a conversation.  Rob had seen us play in 2007 and was interested.  He was the captain of his wrestling team in High School and understands what competition and leadership is all about.  When he is not playing beep baseball, Rob works for the Massachusetts office on disability as an advocate for people with disabilities.  Rob does not like to smile in his photos.  It's a start to his intimidation…but the real fear he strikes into his opponents are the bombs leaving his bat.  Rob's first hit was memorable as it was taken away for a safety concern but that set up his first official run as a walk off hit against the PA Wolfpack.  Defensively,  Rob Set a Renegade rookie record in the field in 2014 as he made 20 defensive stops.  This record had stood since the 2002 season. See 
Rob talk to the Boston Herald in 2018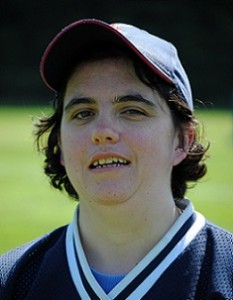 #3 Melissa Hoyt (2007-)
1st Base, MidField
Hoyt picked up a bat in spring, 2007 and became the second female player in Renegade history to play in tournament competition.  Since then she has become the longest tenured female Renegade player in team history.   As a child, she played soccer and basketball until her vision loss seemed to put an end to her participation in team sports. "As a kid I was an avid sports fan, following football, basketball and baseball, wishing at times I could be on a team again." That wish became a reality when she found the Renegades. For Melissa, she is often limited in what she can do physically as she battles Mitochondrial disease.  She may not be abl to run the bases as often as she wants or even practice as hard as she desires, but sh does not let that stop her.  She does what she can and has the full support of the team.  One of her career highlights was throwing out the first pitch at Fenway park with her team standing behind her on the Fenway infield in 2017. Read about 
Melissa in Mitoaction here from an article in 2017.
  You can also see her appear on the 
Boston Neighborhood Network in 2010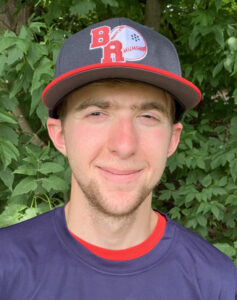 #40 Chris Kimball (2021-)
Rover, Shorty, 1st base
Kimball first found the team as a teenager at a camp in 2012 as a 14 year old.  We knew he enjoyed it at the time but was years away from being eligible to play. Fast forward 9 years later and we finally found him again through a lot of research and getting lucky connecting with his sister on Facebook.  This collegiate runner from Nichols College made an instant impact on the team, joining the 2021 season in late July.  He found himself playing in games with just a month of practice under his belt(rarely ever done in Renegade history).  Chris has a love of baseball, a love of running (he qualified for the Boston Marathon in 2022) and a grit that is worthy of the Renegades.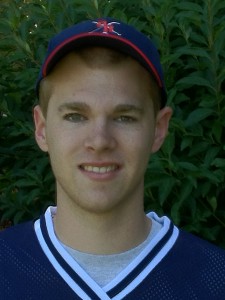 #46 Joe McCormick (2012-)
Rover, Shorty, 1st Base
In 2012, Joe McCormick became a Renegade and in that season was one of six players on the squad with the name Joe.  None of those Joe's were average and this Joe was no exception.  McCormick lost his sight during his senior year in high school and never let that slow him down.  Without missing a beat, he went on to graduate with a degree in computer science from Harvard University in 2014.  In his rookie campaign, McCormick set a Renegade record by scoring the most runs in team history as a rookie (34). Two years later he became just the second Renegade to make the World Series All-star team hitting .600.  Ten years later, Mac set the Renegade team record for highest batting average in a season (.792) and was named the Co Offensive MVP at the World Series, batting .800!  Joe Mac is a leader both on and off the field with his work ethic, his knack to convince his friends to join the coaching staff, his ability to fundraise and his competitive desire to make the Renegades one of the top teams in the world.
Awards:
2014 World Series Offensive All-star 5th place .600 (21-35)
2022 World Series Offensive Co-MVP .800 (28-35)
See Joe Interviewed by 
New England Baseball Journal in 2013
, and by 
Ubersense video in 2014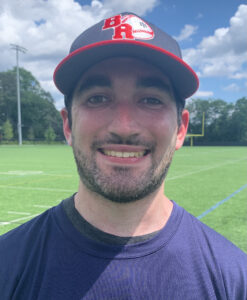 #4 Tyler Mireault (2023-)
Rover
Tyler Mireault became a Renegade in June, 2023 half way through the season.  New to vision loss, Tyler was out of shape as he had not participated in sports since losing his vision.  A former baseball player, track star and High School Corner back for Chelmsford High school, he had the athletic background and desire to play sports again.  Tyler saw his first game action with the team in July at the Beast of the East.  He became just the 2nd player in team history to score in his first two at bats as he plated runs against the Long Island Bombers and Philly Fire.  Those games were eye opening for him as he saw what the excitement was about this sport when he had a chance to compete.  Every single time he practiced with the team in June and July, you could see his confidence grow, his speed increase and his comfort levels rise.  We look forward to seeing his bright future in this sport!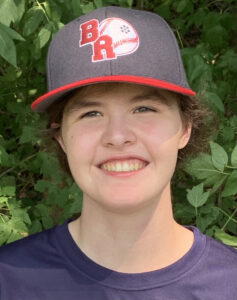 #71 Elana Regan (2021-)
Shorty, 1st Base, Rover
Elana first met the Renegades in 2016 as a 14 year old.  During a trip to see the team in 2016, she asked many of the players and coaches to autograph her hat and she feel in love with the team.  In 2021, we participated in an event and attended a Woo Sox game and reconnected with her.  She was all in from that moment. She had two goals when she started to have vision loss.  Join the Renegades and get herself a guide dog.  Mission accomplished on both goals.  Elana joined the team in the beginning of August as an 18 year old and became the youngest female player in Renegade history.  She also became the first player to ever join the team and play in a game the same month she joined.   Elana played softball before her sight loss made it hard to play.  She is attending Brandeis University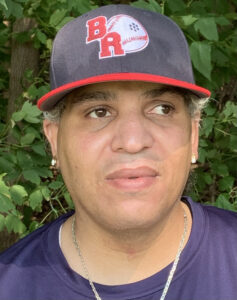 #1 Ivan Rodriguez (2021-)
Pinch Hitter
Ivan found the team from a friend, Luis Soto.  Ivan played baseball into his 30's before he suffered vision loss in his late 30's.  At 48 years of age, he would become one of the oldest rookies in team history and would become the 2nd rookie to sign on with the team in one of the biggest rookie classes in team history (4 players).  Ivan greatly benefited from getting back on the field in two ways.  First, it was some of the most exercise he had since losing his vision.  Second, he only knew one blind person before joining the team.  Getting to be around such high functioning blind people helped Ivan recognize the potential he can reach and started to show him new skills to use as a relatively new blind person.
#48 David Sanchez (2018-)
Designated Hitter
David moved to Worcester in the winter of 2018 and through a google search found the Renegades.  Originally from Puerto Rico, he later moved to North Carolina.  David has been an avid baseball fan for his whole life loves to play this sport after he was deemed legally blind with RP in 2008.  Sanchez is the second ever Renegade with military background as he was a Sergeant for the 82nd Airborne Division in the army.  Anyone who can jump out of an airplane can quickly adopt to putting on a blindfold and running to the bases at top speed. See David appear on 
Fox25 Sportswrap in 2018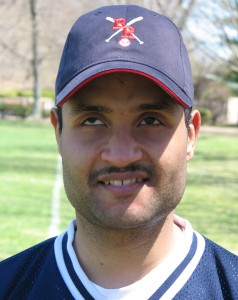 #37 Luis Soto (2014-)
1st Base, Rover
Luis Soto is another player of foreign descent for the Renegades.  Born in Venezuela and raised in the Dominican Republic, he now calls Boston his home.  Luis found the Renegades from his classmate, Damon Graff, as the two of them were studying to be massage therapists at the time.  Luis finds great joy from being part of the team.  Playing for the Renegades has given him confidence that has helped him in many facets of his life including improving his home and employment situations.  In 2018, he gained further confidence when he may have become the first blind beep baseball player to live broadcast a game on Facebook live in Spanish.
#2 Christian Thaxton (2015-)
3rd base, Rover, 1st Base
While playing baseball for Redlands Community College, Thaxton began to notice that he was struggling to see the inside pitch.  This was a pitch he normally crushed.  After seeing the eye doctor, he discovered he was going to lose his sight.  A short time after trying to figure things out, he decided to come to Boston to learn skills to help him cope with his vision loss.  His journey took him to the Carroll Center for the Blind.  There he began to start his new life without sports on his radar.  He never heard of beep baseball and found our team at an event at the Carroll Center and decided to come try it out.  One of his favorite feelings was the feeling of a ball hitting his bat.  He made contact quickly and often in his first batting practice as a blind man.  Thaxton had the bug.  He signed on to play with the Renegades before he had even decided to stay in Boston.  In 2017, Thaxton finished his degree, but from UMASS Amherst.  He also set a league record for the highest batting average in league history hitting .897 at the World Series in West Palm Beach, Florida.  Cooperstown came calling and to honor his accomplishment, 
put his bat on display in the National Baseball Hall of Fame.
Awards
:
2015 World Series Offensive All-Star 4th place .719(23-32)
2016 World Series Offensive All-Star 4th place .651(28-43)
2017 World Series Offensive MVP .897 (26-29)
2019 World Series Offensive All-Star 6th place .706(36-51)
See Christian appear 
on NBC  
and appear on 
NPR's "Only a game" in 2017
#64 Rob Thayer (2011-)
1st Base, Rover
Rob's doctors said he would never play sports…that is until he found the Boston Renegades in 2011.  An avid sports fan, Thayer was happy to be part of a team. Competition, teamwork and losing weight were some of his goals when he joined the Renegades.  The weight loss was not only important to feel better, he wanted to shed pounds to help him lose his diabetes.  In his time with the Renegades he has been able to lose close to 70 pounds and keep the weight off.  At first, Thayer was one of the quietest players on the roster but once he got comfortable, he became a force.  Many consider him one of the best teammates on the roster always offering words of encouragement and bear hugs to his coaches and players during games.  He earned the nickname "Hot Tub" when he first discovered the joys of this hot bubbly sensation while attending the World Series in Minnesota in 2014.  While there, he would wake up at 5am to sit in the tub before games. Thayer became the President if his Lions club in Brockton in 2018 and is always looking for ways to help people. Meet Rob Thayer in a 
video made by the Boston Renegades in 2012
#30 Joe Yee (2014-)
3rd Base, 1st Base
In 2014, he became the 7th player named Joe to play in a game for the Renegades.  Joe's experience with team sports was as a blind wrestler in high school.  As an adult, he enjoyed cross country skiing but never had much time for recreation.  Instead, Joe put his energy into his career.  He taught himself computers and focused on building his career.  That career lasted a long time at the Harvard Management Company as part of their IT department.  In 2013, on a recruiting spree, we finally convinced Dino Vasile (a Renegade at the time) to ask Joe to come give the sport a try.  Timing was just right as Joe wanted to put more work life balance into play.  On the field, Joe has had a lot of success on both sides of the ball in a short time.  His wrestling background has made him tough as he has battled through some injuries in his time with the team, most notably getting hit in the head twice in an inning while playing defense against the defending champs, Indy Thunder in 2017.  That did not stop him.  In 2018, he put that behind him and raised his batting average nearly .303 points above his career average when he hit .586 in a season.  Yee accomplished this with the help of his cousin, Peter Connolly who he convinced to join the team.  They became the second family members in team history to score a run off each other in competition. Hear 
what beepball means to Joe Yee in a Renegade video shot in 2016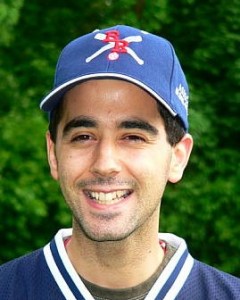 #9 Guy Zuccarello (2002, 2005-)
Shorty, Midfield
Guy was one of the original players from the 2002 squad. He left the team to parent a baby after the first season of play and returned in 2005.  Pound for pound Guy may be one of the most dangerous players in the league on both sides of the ball. On defense Guy has been named to two All star teams at the World Series including being named the MVP on defense in 2012 in Columbus, Georgia.  He is also the Renegades all-time leader in defensive stops.  Off the field, Guy is in charge of helping recruit new players and coaches.  He helps organize events and talks to anyone who wants to learn more about the sport and the team.  Guy has an amazing memory and can tell many stories about how the team has grown from what he calls the "dead ball era" of the 2002 team into what it has become today.
Awards: 2010 Beast of the East Defensive All star (15 stops)

2012 World Series defensive MVP 36 Stops

2013 World Series defensive All Star 3rd place 41 stops
See Guy on Fox News in 2017
 and on 
Chronicle in 2012 
 and
address the team in 2019
The Coaches and Staff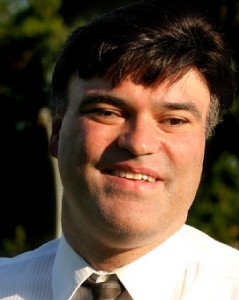 John Oliveira (2002-)
The Owner
John is the man behind the Renegades. You may not see him on the field or hear him in team meetings, but his influence is everywhere. John met Coach Weissman in 2000 and the two had a vision to create a competitive beepball league in the Boston area. That vision may have been tweaked over time, but the Association of Blind Citizens found a way to fund the Boston Renegades Beepball program. John helped get the team started in 2000 and coached them in their first World Series in 2002. In 2003, he moved "upstairs" and left the coaching duties to new coach Rob Weissman. Oliveira's passion to promote programs for visually impaired people has been the number one reason the Boston Renegades exist as a team.  His tireless efforts also provided the team with the majority of its fundraising from 2002-2012 when the team was trying to build a foundation.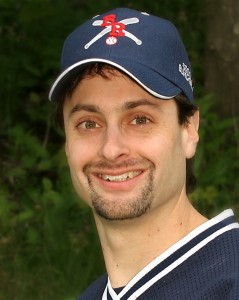 #62 Rob Weissman (2003-)
Head Coach, Catcher
Weissman helped start Beepball as a competitive sport in the Boston area. He got his start as the head coach of the Lowell LAB Retrievers in 2000. In 2003, he returned to the coaching ranks as the head coach of the Boston Renegades. He brings a unique style to the team where he is heavily involved in every aspect of the game as a hands on vocal coach. Those vocal chords get a work out during the season as he is known to lose his voice during tournaments yelling words of encouragement and barking out strategy. He may be the only head coach who catches during the game, which helps him keep a unique perspective. In his coaching career he has caught for over 3500 at bats and pitched to 20 batters. This means he has not been involved in a pitcher catcher battery in just 2 at bats since 2003.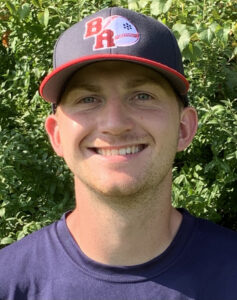 Tom Albertson (2021-)
Volunteer
Tom found the Renegades through his co worker, and Renegade volunteer at Brigham and Womens Hospital, Kim Vermilya.  As a baseball enthusiast, he was sold quickly and planned to join the team for the 2020 season.  Clearly, that was robbed from us all due to COVID.  He connected with us in the spring of 2021.  We did not know what the season would look like and he was unsure how long he would be living in the Boston area for at this time.  He signed on to be a Renegades in March and met some of the guys virtually at that time.  He took the field with us in June but when July rolled around, he was moving back to Philly in preparation to attend Georgetown for his MBA.  He stayed in the loop with us all season and when the Renegades played in the Philly area in September, he was coaching with us on the sidelines and helping with so much of the logistics for the day.  We were so grateful to have him with us and have hopes he will return to the Boston area in the near future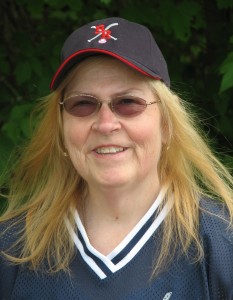 Peg Bailey (2013-)
Team Nurse, Catcher
On a cold April Rainy night at Fenway, Peg got up from her grand stand seat and was walking around the concourse when she stumbled across a table with a few blind guys.  Curiosity brought her to the table and after talking to a few people she was interested in learning more about beep baseball.  That interest turned into a volunteer coaching position.  Peg has a deep background in softball.  She walked on to her college softball team as a 37 year old freshman pitcher at Salem State.  At this time, she was still pitching in a modified fast pitch league.  Beyond that, she has coaching experience in softball and is a Licensed Practical Nurse (LPN).  As a Renegade, Peg has made this one of her passions.  She is an avid fundraiser and makes almost every practice.  Her passion to help others shines with the Renegades as she helps with their skills and their health. We are excited that night at Fenway was cold, or we may never had met her.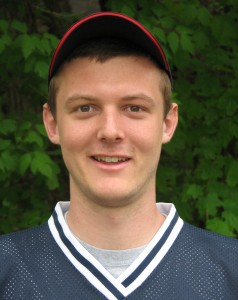 #77 Joe Bourque (2013-2014, 2017-2020, 2023-)
Spotter/Catcher
Joe Bourque joined the Renegades in 2013 while he was still attending Boston College.  After graduation, he left the area but never lost touch with the team.  Even though he was not actively on the roster, he did attend some games in 2016 and never lost interest in the game.  He vowed to return.  In 2017, his career path took him back into the Boston area and before he has even started his first day, he voiced his pleasure to be back with the team.  Hailing from Wakefield, Bourque, a two-time marathoner, grew up playing baseball, basketball, hockey and football throughout his childhood and continued in running track during his high school years.  Bourque found out about the Renegades through his close friend and current Renegade player, Joe McCormick.   While with the team  Joe played many roles from helping with running practices, getting paperwork, keeping stats, shooting video, catching, hitting grounders, running drills, doing live videos of our games and calling on the defense.  He also was part of the coaching staff that attended the 2014 & 2019 World Series.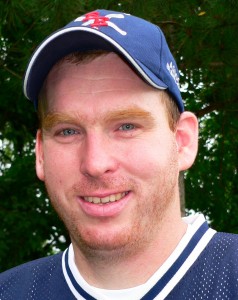 #44 Ron Cochran (2006-)
Pitcher
Cochran returned to beepball in 2006 as he along with Weissman and Grillo helped get beepball started in Massachusetts back in 2000 with the Lowell LAB Retrievers. In his first year as a pitcher he set many of the Renegade records including best batting average against (.368). Cochran is one of the best pitchers in the sport.  He is our all-time leader in batting average against (.399), Putting balls into play (78.5%) and at-bats (5029).   In 2022, He surpassed 2000 runs allowed in his career!  Ron has helped 5 players win 8 World Series offensive awards including league MVP's in 2017 and 2022. Ron brings with him experience in pitching, a hard core competitive fire and years of coaching experience.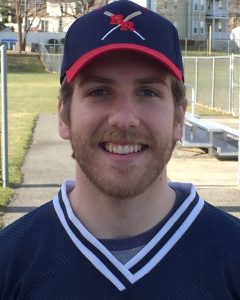 Ben Coiner (2016-2018, 2023-)
Hitting Coach, Spotter
Ben moved to the Boston area in 2015 to take a job at Brigham and Women's Hospital after graduating from the University of Chicago in the spring.  He found the Renegades on the web while looking for things to do in the Boston area and thought it would be a great fit for him as a volunteer activity.  Ben played division three baseball while in college as a catcher and a walk-on athlete.  His knowledge of baseball and his passion to help people made a quick impact.  Ben was a constant presence during his time with the team.  He coached hitting and was a caller in our defense both regionally and in Chicago.  His love for the Renegades even brought his family to the team from Michigan as his brother helped at practices while his entire family has become true fans and supporters of the team  He left the Boston area in the middle of the 2018 season to attend Med School at Vanderbilt University.   His work volunteering for the Renegades was featured in the Brigham and Women's Hospital
Bulletin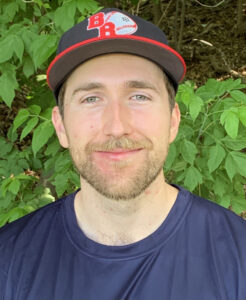 Jacob Coiner (2023-)
Volunteer
Jacob first found the Renegades in the summer of 2017 when he came to visit his big brother, Ben for a month.  Ben convinced him to come to practice with the team on Jacob's vacation.  The Coiner family has been big supporters of Renegade beep baseball and this was a great match.  Fast forward to 2022 and Jacob moved into the Boston area after graduating Michigan State.  His brother also moved back into the area after graduating Vanderbilt medical school.  They two of them attended some of our charity games in the fall.  Jacob was initially unsure if he could actually help the team but he has been a natural.  Jacob's ability to work a hit stick was as natural as a baby calling "momma".  He has been hitting fungo to the team defense, working with our base runners and has been helping with hitting drills.  He has been a steady presence on the field and we are so grateful to have him on the team.
#7 Peter Connolly (2016-)
Pitcher, Spotter
Peter joined the Renegade after the start of the 2016 season and he quickly picked up the sport.  In team history, he became just the 3rd volunteer related to a player.  He is Joe Yee's younger cousin.  During  the work week, he is an actuary for John Hancock but for the Renegades he wields a big bat.  That big bat is needed as we want ground balls to be "smoked" to help us prepare for the World Series.  Peter is an active softball player and those skills help him read balls off the bats of opponents as he has worked his way into the rotation of Renegade callers.  He has also steadily improved as a pitcher.  He has been willing to throw countless BP sessions, exhibition games and in 2022, he paired with Ron Cochran to become one of the only pitching pairs in league history to each have a sub 20% K rate at the World Series.  In 2022, he became just the 4th Renegade pitcher to surpass 100 runs scored against him. Off the field, Peter is invaluable to many of the Renegades as he is often willing to help players get rides to or from the practice fields.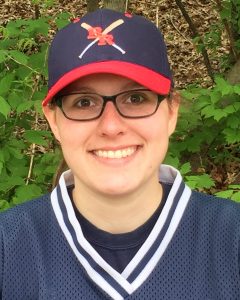 #35 Gina Devenish (2018-)
Catcher/Spotter
Gina officially joined the squad in 2018 after sitting on the sidelines as a fan in 2016 & 2017.  Gina resides in Salisbury, MA with her husband, Shawn Devenish who plays with the squad.  Her experience as a teaching assistant and time running track, playing field hockey and watching the Renegades practice for the past 2 years will help make her a valuable  asset to the team.  Gina likes the fact the Renegades help blind and visually impaired people be part of a team while having a reason to stay in shape and stay active.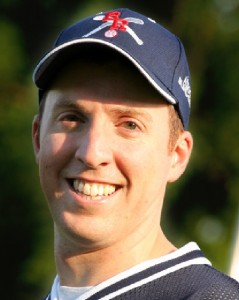 #33 Bryan Grillo (2003-)
Defensive and Running Coach, Spotter
Grillo gets his beepball roots from coaching with the Lowell LAB Retrievers in 2000 with Rob Weissman. While in Lowell, he was often found wearing a blindfold and playing the game as player. The perspective of being a player has helped him to lead the team in the field. Grillo is the Renegades Caller. When there is a ball put into play you will hear Bryan yelling out signals to the players to help them zone in on the ball. Grillo has been the Renegades sole caller in a single caller system in 80 of 82 games since he joined the team in 2003. Since the team has moved to a dual calling system, Grillo has called more games (31) than anyone else. Historically, he was on the field to help Darren Black (2) and Guy Zuccarello (2) earn their World Series All- Star awards.
Trish Hatzinikolau (2022-)
Defensive coach
Trish found the team while talking to one of her patients at her job as a physical therapist.  As a former college softball player, she was eager to get back on the field and put her softball and physical therapist skills to use.  Trish jumped right in with both feet and started her rookie season on the defensive side of the ball.  She worked hard to learn the game and the fundamentals and was able to make an immediate impact on the team.  Her dedication, hard work and desire to learn is going to make her grow with this team as she can work on both sides of the ball.  We knew we had a coach when she showed up wearing cleats to practice and never shied away from cold or rainy weather!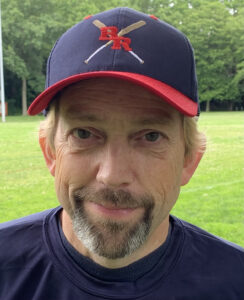 Tom Kimball (2022-)
Volunter
During the winter of the 2022 season, Tom was often picking his son, Chris up from cage practice and he got the bug to want to volunteer.  Tom became just the third father of a player to ever be part of the Renegade coaching staff.  Tom helped the team out primarily on the base running side of the game.  He is often found working with base runners as they hit and get out of the box.  During games, Tom brings his love of  photography to the team and got us a lot of pictures during the season that you will see on social media.
#32 Jason Lenicheck (2004-2015, 2017-)
Hitting coach, Spotter
Jason "Ace" Lenicheck has more coaching experience than the entire Renegade staff, with years of coaching girls soccer. In 2004, Ace joined the coaching ranks to help the Renegades with their hitting. Back in his playing days he was known as an all hit no field 3rd baseman for Acton Boxboro High School. The combination of his hitting and coaching skills quickly have made him an impact coach on the staff. In 2011, he was pressed into learning the defense and asked to call. Taking his skills of playing 3rd base, he called the left side of the defense for 5 games in 2011 leading the defense to 4 wins.  He has called at the World Series, Chicago and in the Beast of the East and helped the team to a 9-5 record as a substitute spotter!  His do it all mentality has helped the Renegades improve their on field success.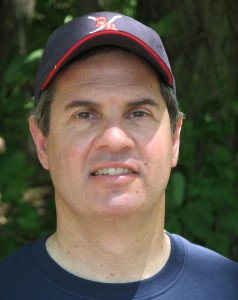 Mike Marciello (2013-)
Hitting Coach, Team Doctor
Media plays an important role in connecting people and that was the case for Mike.  He found about us through an article on our documentary that was in the Boston Globe.  Mike has some personal ties to the team on a few levels.  Athletically he loves baseball and has played and coached it at different levels.   Personally has been diagnosed with Stargardt's disease which impacts his central vision.    Professionally he trained at Spaulding Rehab and is currently a doctor of Physiatry which focuses on treating pain and restoring maximum function lost through injury. Mixing all of the above together and we have the ingredients and a recipe for a coach who we hope will help us as much as we can help him.
Patrick Marquis (2012-)
Catcher, Defensive Coach, Web Site Administrator and Designer
Patrick has a personal interest in web design and had been sitting near Rob Weissman at Work at IBM for a few years.  With Rob's super novice web design knowledge, Patrick was able to help him through a few sticky points over the years.  In 2012, Patrick and Rob got to talking about the organization's desire to move the site to WordPress.  The lucky thing here was Patrick's technical curiosity was steering him to learn WordPress and a partnership was formed.  Patrick redesigned the entire Renegade web site to be hosted on a WordPress site.  This redesign was his first major project in this realm and was a success. He made it easier for the team to update the web site, link it to social media and we have many more things planned now that its easier to maintain.   You may not often see Patrick on the field, but this improved web presence has helped us reach many people across the globe with more up to date content about our great sport and team.
Andrew Mazzone (2023)
Hitting Coach
Mazzone came to the Renegades with possibly the most impressive baseball resume as a four year player at Dickinson college where he hit .398 with an on base percentage near 500!  He found the Renegades though his summer ball teammate, Hunter Weissman.  Mazzone was with the team for about 2 months before his time was up and he moved to California to finish his education and NCAA eligibility at Claremont McKenna College.  Mazzone loves to talk hitting and his wealth of knowledge is tremendous.  He also has some of the most legendary fungo sessions as he was hitting balls further than we have ever seen beepballs being hit.  During his time with us at our home tournament for the Beast of the East, we used his baseball knowledge to help us line fields and prepare them for safety.  He was always willing to do whatever we needed and we thank him for his service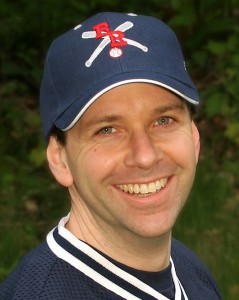 #26 Rick Myers (2004-)
Defensive Coach, Equipment Manager
Myers was introduced to the game of beepball in 2000 as he was part of a sighted team asked to play the Lowell LAB Retrievers in a scrimmage game. He was one of the few sighted people to score a run in those contests. In 2004, Myers joined the coaching ranks to help Boston with their defensive skills. One important lesson he taught was the importance of wearing a protective cup as he accidentally hit a player three times before they made the all important purchase. Myers has a PHD in Physics which has been helpful off the field repairing bases, studying breakage in bats and developing defensive charts for the coaches to use to set up the team defense. Myers has not been able to be on field as much in recent years but has stayed involved helping to repair equipment and work with stats for the home games.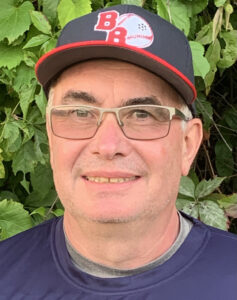 Fran Regan (2021-)
Running Coach
We met Fran Regan at a Woo Sox game that he attended with his daughter, Elana.  Little did he know, he was going to be recruited!  Fran became just the second father of a player to ever join the Renegades coaching staff.  He also became the first family member to ever join the team in the rookie year of their family member.   We asked him to join because he is a skilled physical therapist and we needed that on our team.  He fell in love with the team and the sport.  You can even find Fran at practice on the few days his daughter is unavailable.  Fran has become one of our running coaches and has taken it upon himself to come up with new tools on his own time to help the team improve their speed.  He also helps players during the off season with work outs to help them improve their health on and off the field.  Drew Crook credits Fran for helping him have his healthiest season in the 2022 season and a few others watched this happen and enlisted his help in Fran's second Renegade off season.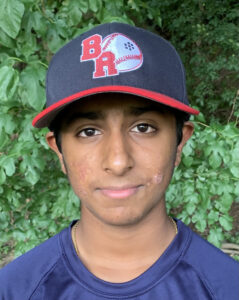 Rohan Seth (2022-)
Catcher, Hitting coach
Rohan joined the team after finding us on social media.  He is friends with two Renegades who attended his high school, Seth Cutler and Alasdair Fletcher and he saw photos of them on facebook.  Curious what they were doing, he found the Renegades a cool idea and wanted to join the team.  A few years younger than his high school friends, he joined the team without knowing if Seth or Alasdair would be with the team in 2022 (they were off at college).  This 17 year old baseball player jumped right in and can be found helping the Renegade offense.  Rohan has helped with coaching hitting, catching batting practice, hitting balls to the defense and even helping run defensive drills.  This Lexington connection that started with the Cutlers has really grown over the years!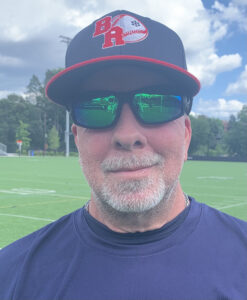 #88 Dean Thomas (2023-)
Pitcher
Dean joined the Renegades in June of 2023 after we contacted him on Instagram.  A Big sports fan and an active softball player, once Dean heard about this team he just needed to know where to sign up.  Dean was pitching shortly after signing up without any fear and with immediate excitement.  Whatever the team needed Dean to do, he did it.  Fungo, catching, Social media, Pictures and just general feedback, he soaked it all in.  A former Football coach, Dean has a ton of coaching experience that he plans to bring to the Renegades.  It's rare to see someone as excited as he was sight unseen to want to join the squad.  We look forward to unlocking his coaching skills and making him a valuable member of this team as both a pitcher, caller and skills coach!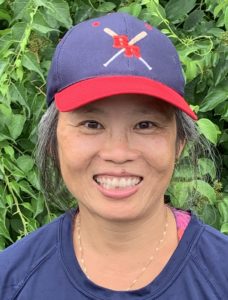 Dana Vermilya (2019-)
Running coach/Team Nurse
Dana joined the team in 2019 after hearing about the squad from Lisa Andrews.  Dana joins the team with her daughter, Kim and brings the first ever mother/Daughter tandem to the team.  Dana helps the Renegades with base running and defense.  She also adds medical experience to the team as she is a nurse who works at Brigham and Women's hospital.  The funny thing is she works on a floor that Coach Rob spent 3 weeks on during the 2014 pre-season.  Dana has been a steady presence with the team in her rookie season and is learning a lot.
Rasik Waikar (2022-)
catcher, Hitting Coach
This 15 year old from Brookline is one of the youngest people to ever join the Renegades and coming to this team did not know a single player or volunteer on the staff.  That says a lot about his character.  Without a driver's license, he often got Ubers to practice to be part of the Renegade experience!  Rasik can be found catching batting practice and helping to run defensive drills.  He also helps us with hitting and gave guidance to a few of our hitters.  To see a 15 year old kid explain how to fix a hitting flaw and have them incorporate his teachings is a cool thing to see!   During the 2022 season he joined us to run a camp for visually impaired kids, many- who were his age.  It was such a cool sight to see him helping blind kids his age learn how to swing the bat and everyone of them made contact during their BP sessions with Rasik's guidance.
#41 Hunter Weissman (2011-2013, 2015-)
Hitting Coach, Catcher, Team Operations Intern
Hunter, one of the Weissman twins, is Coach Rob's nephew and former coach Lisa Klinkenberg's son. Both Lisa and Rob thought it would be great to have the kids involved in the team and as they grow, they are getting great experience volunteering and learning about the visually impaired. Hunter has a lot of baseball experience and can often be found catching, throwing balls into the team defense or helping guide players back from base running drills.  In 2017, Hunter was looking for a bigger role and took on an internship with the team.  There he worked on many projects including organizing fundraising games, working in the community, broadcasting games and events on Facebook live.  Hunter gained worked in all facets of the operations of the Renegades.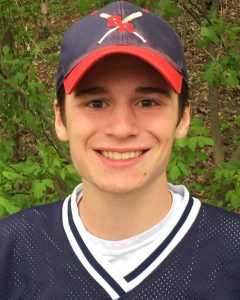 #99 Teigan Weissman (2011-2013, 2015-)
Spotter, Pitcher
Teigan started with the Renegades with his mom, sister and twin brother in 2011 as a twelve year old.  Volunteering became part of his life.  In his early years, he shagged BP balls, worked the base switch and guided the players back from bases.  As he grew older he got more involved with the team.  He pretty much did everything for this team from coaching hitting, hitting fungo, doing base running drills and so many other on the field tasks.  He had a love of photography at one point and he took a lot of pictures and video of the team.  As Teigan became an adult, he had a desire to pitch and worked his way into the rotation as a lefty, throwing countless batting practice sessions between 2021-2023.  The team needed him to step up and learn how to call as well.  In 2021, he became just the fourth volunteer in team history to pitch and call in a game in the same season.  In 2023, Teigan worked hard to improve his skills as a caller and he ran the left side of the defense for the first time in his Renegade career during our trip to Indy.  Teigan was also involved in many off the field events.  He was always willing to fundraise and help out at events with the Renegades.  He and his brother, Hunter grew up with the team starting as kids and growing to the point where they were then driving people who knew them before they entered High School.  One could say the team grew up with these twins!
Retired Renegades
There is also a page to see information on players and coaches of Boston Renegade past (from 2002 forward)