Recruiting is hard work
One of the hardest things in the sport of beep baseball is recruiting new players. We are not a division one college program people dream of playing for.  Our blind youth are main streamed in schools.  There is no true blind school for kids who just have vision loss in Boston. This adds to the challenge.   Yes, Perkins is here with its amazing campus, history and staff.  However, most of their everyday clients have much more than vision loss these days.
The bottom line is our team has succeeded recruiting new players with its history, word of mouth and dedicated volunteer staff.  The unwavering support of the players who joined this program both past and present has also helped us make a small footprint in the community.  There are roughly 30 teams in the NBBA at this moment.  Unofficially, we may be the only team to have a roster comprised of players who grew up in our program and never played elsewhere.  Ok, sure there may be another out there – but can any of them say that with a straight face that they have done this for 20 seasons?  Since 2002, we have had just two players play for us who came to our program with experience playing for another team.  Both of those players played in the 2003 season.
Long Term Dividends
For years, the Renegades have run camps for kids, teenagers and adults with two goals.  First, we want to give people an opportunity to try something they may never thought was possible, play baseball with vision loss.  Secondly, we hope a small percentage of them will fall in love with the sport or the team and will be recruited to join us.
We look at recruiting as planting a seed.  As with many things in life, timing is everything. Sometimes, we meet a person who can't commit to playing at that time despite their interest.  Maybe their job is too demanding. Maybe they're getting married or having kids.  Heck, we have even had a player wanting to play but could not because he was homeless.  Often times, someone who is new to vision loss needs time to adapt to their new life or needs approval from a doctor that their repaired retinal detachment is not at severe risk.  These are all real stories of people we have tried to recruit.
With every one of these encounters, we try to plant a seed hoping that someday life will allow them to benefit from the Renegade experience.  One of the biggest challenges we face with recruiting is finding young players.  In order to play for the Renegades, we require a kid to be 18 years of age.  We have let a few 17-year-olds on the team in the past, but they turned 18 during the season.
Keeping in touch with kids
Keeping in touch with kids has proven to be harder than we ever imagined.  We recall plenty of times in the past where we co-hosted a demonstration and the organizers/volunteers at the clinic refused to allow us access to the kids who expressed interest in the sport.  For privacy and protection concerns, their instructions were to keep the kids personal information private.
Eventually, we worked around this with the Carroll Center and Perkins because our goal is the same, in that we want to help these kids – we are not trying to sell them a service.  A huge part of this success is due to the efforts of Kara Peters.  Kara has a passion to allow kids an opportunity to try new things.  Not only does she work for the Carroll Center, but she coached a goal ball team and has been on the Renegade staff for many years!
Two success stories
In 2021, after a long layoff due to the pandemic, we finally saw our first return on investment of these youth camps.  We were able to successfully recruit and integrate Chris Kimball and Elana Regan on to the team.  Chris was the first to sign as a 22-year-old.  Elana joined less than 2 weeks later as an 18-year-old.  Both of them met us when they were little kids.  Not only was it exciting to add them to the team, they both came with stories making all of this hard work worthwhile.  We hope these two will be part of the next generation of Renegade lifers!
We have never taken on two rookies so late in a season and allowed them to play in games.  However, with the team forgoing the World Series and the first games of the season being in Woburn, both Chris and Elana had a chance to get into games very quickly.  Chris saw his first practice on July 18th, 2021 and Elana joined on August 1st. On August 27th, the Renegades played their first game in more than two years.  That was just nine practices for Chris and seven for Elana.  To some, that may sound like more than enough.  However, keep in mind this is not like a sighted adult joining a softball league.  Their only experience playing this sport was a few hours of a camp when they were teenagers.
They had to learn the rules, the defensive game plans and zone responsibilities of different positions.  They had to learn skills to swing a bat, run and play defense while blindfolded.  Learning 30 different Renegade names and voices would also prove to be a hurdle.  Elana and Chris did all of this as the focus was not on them.  Preparing the team to play after a two year layoff was the goal.  Training new callers, new pitchers and three other rookies who had been with us since May was the focus.  There was a lot going on to be sure.  Getting them ready was no small feat and they did the very best they could.
Recruiting Chris Kimball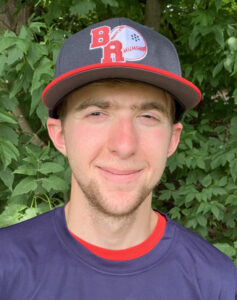 Chris is an accomplished runner who ran for Nichols College when he was in school where he earned a degree in Sports Management.  He currently works for Fidelity.  He is also working on a Master's degree in Analytics at Northeastern.  This fall, he qualified for the Boston Marathon, a long time goal of his.  His Renegade story involves an innocent journey which then ended up in years of searching till the persistence paid off.
In 2010, Chris was introduced to Beep baseball at Camp Abilities through a program Kara Peters organized.  He was just 12-years-old at the time.  His memory of the moment is much less than what we remember.  Chris says, "I have no recollection of which Renegades showed up, but I do remember being shown how to swing a bat using a tee and we were introduced to the way the defense was structured as well as how to lay out when trying to stop the beep baseball.  This is all I can remember from that first experience."
We recall a few things about him.  First, he loved it.  Secondly, his brother joined him and also got a big kick out of it.  We recall how tiny they were and the bats seemed to weigh more than them.  Both of them dressing in Red Sox gear was a good clue this could be a nice fit for them.  They were two of the first email addresses we ever got.  What 12-year-old reads email? This was the first mistake we made.
"Later on, during my high school years (during which I was a much bigger baseball fan) I met [Larry Haile and Joe Quintanilla] when they visited my goalball team [coached by Kara Peters] during one of our practices.  This time around the Renegades who showed up were playing our sport [goalball]. The main difference between the two experiences is when I came away from meeting the team in high school I knew I definitely wanted to join once I turned 18."
Connecting with Kimball
Sadly, it was not easy to connect with him.  Chris started off on a path to Nichols College and found a passion in running.  Many emails were sent to their address, landing in email jail never to be read. In 2018, we were doing our annual search for new players and reviewing our list of prospects.  As part of that process – we came across an article about a blind runner. Excitement roared amongst the recruiting circle of Rob Weissman and Guy Zuccarello.  Kimball was finally of age.  Sadly, Chris had no social media presence and we could not find him.  Call after call went out to people.  Nobody knew him or there was reluctance to give out his contact information for privacy reasons.  We even asked Ron Cochran's daughter to help us find him because he ran in a similar circle as her at their small High School.  She did not feel comfortable asking.  This went on for nearly three years.  We must have asked a dozen people for help over this time.
Finally in 2021, Weissman took a chance and found his sister on Facebook and sent a private message.  His sister answered this request from a stranger and our prayers were heard.  She mentioned that she knew he would love it and would talk to him.  After a few messages, she said he would have him call us that day.  Guess what? The phone rang and he was shortly a Renegade after that call!
Chris Kimball – The Renegade
When asked, "what stood out for you that made you interested in being a Renegade?" Chris had this to say: "Well for starters the fact that
the blind and visually impaired can play baseball…with modifications of course.  When I was younger my parents were very straight forward with me and so I grew up knowing that there were just certain things, like driving, that I wouldn't be able to do because I cannot see well enough to.  Baseball was one of those things.  By the time I started to really enjoy baseball in middle school I would occasionally ask my parents (fully knowing how the conversation would end) if I could play little league baseball.  I always got the same answer and understood that it was unsafe because I wouldn't be able to see the ball but I really wanted to play and so I probably had that same conversation three or four times before I stopped asking.  By the time I met the Renegades for the second time I had forgotten about beep baseball and the closest I had gotten to playing baseball was helping to manage my high school baseball team.  The idea of being able to play some form of baseball and being around people who encounter some of the same unique challenges that I encounter on a daily basis is actually comforting."
What all started at a camp in 2010 took us 11 years to get him on the field.  Despite discussing Kimball's name numerous times through the years, we never connected.  He is one of the reasons we have tried to improve the way we work with kids.  When we find kids like this, we need to connect and keep them engaged!
Recruiting Elana Regan
Elana's journey to the Renegades also included Kara Peters and multiple touch points.  She also shares a connection with Chris in that she wanted to play for the Renegades.  Elana took a different but similar path to finding the Renegades.  She is the youngest female player to ever join the team.  A sports fan, she had to stop playing softball when she was a kid due to her vision and she missed it.  When we caught up to her in 2021, she was working part-time helping to produce podcasts and preparing to start her Freshman year at Brandeis University.
Elana remembers her journey, but like Chris we remember a little more than her.  She states, "I first met the Renegades in 2015 when I went to the Beast of the East when I was in Carroll Teens, a summer program, when I was 13. Through the Carroll Center, I met Kara Peters who first introduced me to the sport and the Renegades. I then attended Carroll teens the next year in 2016 and saw a charity game and got the hat signed. Then I participated in the clinic through the Carroll Center, I forgot the year."
There is lots to break down here and have fun with.  First, she got her timeline a bit out of order.  That's ok, she was a kid.  By the time we met her, we were better with our notes and kept some scouting reports.  After the clinic she mentions above, we wrote this short report.  It reads, "Met her at the Carroll Center in the fall of 2016 with [Rob] Dias and [Rob] Weissman.  She is athletic, high vision and played softball.  She knows how to swing.  Kara says she has a good support channel.  In 2016 she was only 14 years old".  With a Hopkinton address, we thought it was a long shot she would join the team due to the long commute.  Never say never!
Re-connecting with Regan
That support channel is important to mention because we recruited her dad to join the team as well and they became the first ever father/daughter team in Renegade history.  Not only has her dad supported Lanie in her quest to play, he has fell in love with the sport and worked to help our players get into shape during this past off season.  His experience as a Physical Therapist is quickly paying dividends to help this team.
In July, 2021, a delegation of Renegades went with the Woburn Host Lions to Polar Park to see the brand new Woo Sox.  That game was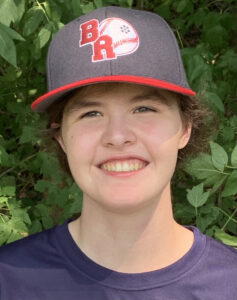 coordinated with Frank DiMauro of the Woburn Host Lions and Coach Mike Marciello who was working in the community to help with blind awareness in Worcester.  He actually knew Elana was going to attend as part of his work and wanted her to meet the team.  Mike was unaware we had previously met her.  At the game, Regan connected with a few Renegades including Marciello, Gina Devenish and Shawn Devenish.  She wanted in.
Elana Regan – The Renegade
She was at practice shortly after that game to watch the Renegades scrimmage on the first weekend of August.  Sitting behind home plate, Elana had her own personal play-by-plan man, Joe Yee.  He focused on helping acclimate Elana to the Renegade culture.  Meanwhile, her dad watched on with interest as he had never seen the sport played.  By the end of this day, they had signed on to be Renegades!
When asked, "what stood out for you making you interested in being a Renegade?" Elana had this to say: "I used to play softball when I had more vision, and I really wanted to get back into a team sport. I found throughout high school it was hard to get involved in team sports and I really wanted to be competitive again. The community of players also drew me to the Renegades. The coaches and players on the team are also helpful and supportive, and I wanted to be a part of that."
Shortly after joining the team, a story started to surface as told by her dad, Fran.  Elana was not just a kid with a desire to play.  She told us, "I had two goals for my life at age 13-15. To get a guide dog and to play beepball, and I did it."  We found out when she was a kid, she was encouraged by Kara to ask for autographs of the players.  Joe McCormick, Joe Yee, Christian Thaxton, Shawn Devenish Rob Weissman and more unreadable signatures were captured on a hat.  She still has that hat today.  Her dad sent photos of it shown here!  How cool is it that we were able to help her achieve this goal?!
How did these Rookies do?
Chris and Elana did well in their rookie year.  Though it was a compressed time, they were sponges.  They soaked in information like a good defensive player absorbs a ball into their body to record an out.  We can't get caught up in stats, because with both of them, they grew each week like a weed.  Chris became the first player since 2015 to record a defensive stop and score a run in his rookie year.  He got 16 at bats and scored 4 times with just 4 strike outs.  Elana was second amongst our five rookies this year, playing in 3 contests.  She got 7 at bats during the year.  She was terrified and lost in her first two tournaments but calmed down and made contact when playing against Rochester.  While playing defense, nothing was hit her way to give her a chance to make a play.
When we asked them, "What has been the thing you have enjoyed the most about joining the team?"
Elana says, "I've enjoyed having a team again, people that support me and want me to succeed. I enjoy competing! I'm a very competitive person and I want to win and I wanna do my best to give it my all, and the Boston Renegades was the best place for me to do that. It feels so good to swing a bat again."
Chris says, "Honestly, I haven't even been a part of a normal season yet so I don't think I've experienced all that it means to be a Renegade.  There are also so many reasons that I have enjoyed being a part of the team thus far.  However, if I had to choose a few reasons they would likely be the positive and supportive team culture, the work ethic of the team as a whole (players and coaches), and being able to participate in a sport with other great visually impaired people.  I've enjoyed playing sports all my life but there haven't been many opportunities to play alongside other people who are visually impaired.  For example, running through the woods when running cross country was a real struggle for me.  I'm sure that there were always other people out there running cross country with the same challenges as I, however, I'm sure there weren't too many legally blind kids running through woods.  I'm not trying to take anything away from those who were faster than me, I'm just simply stating that there wasn't exactly a level playing field.  In beep baseball there is a level playing field.  However, joining the Renegades hasn't just given me the opportunity to enjoy a level playing field, the Renegades have given me the chance to enjoy getting to know a great group of my visually impaired peers while participating in one of the greatest games the world has ever known."
Here is one thing we know; they are going to have a great time with this team and we're so excited to give them this opportunity and to see them contribute to the team on and off the field.  We also know we have to do more recruiting and find better ways to work with the Renegades of the future!
Who do you know that may want to join?
Chris helped us make this video with the intent of helping to recruit new prospective Renegades.  You can see how much he loves it!
We urge you to think about these three things:
Who do you know that could benefit by playing for the Renegades?
Who do you know that loves sports and wants to volunteer for the team and change people's lives?
If you are a friend or family member to either Chris or Elana – or just a diehard Renegade fan who wants to help them get to their first World Series, please consider donating to the team.   You can donate through our web form in their honor.
As you can see, recruiting is hard work but worth it and changes lives.  We hope this story touches someone, just one person.  Maybe it will be a blind person thinking, "I have dreamt about playing baseball since my vision loss".  Maybe someone is looking for a volunteer opportunity thinking, "I  want a way to help people through sports".   Please contact the Renegades at [email protected] if you know anyone who would like to join us to play or volunteer!