John Crawford Moments
As discussed in a previous post, John Crawford was a true friend to the Renegades and we are honoring him with calling out our John Crawford moments.  He was someone who came to help this team and soaked himself in our team culture for pretty much 8-10 hours a day for a week in the sweltering draught in Ames, Iowa in 2012.  His contribution must never be forgotten.  To read more about his contribution to this team, please see our first post about our Crawford moments
For more than 20 years, Renegade volunteers have made amazing contributions to the team and its players.  The culture of support has been in the words of Bryan Grillo, "Tremendous".  Helping players with injuries, improving their game, fitness is a start.  We have seen volunteers help players through major life challenges and help with every day things.  Some years, coaches have more time than others.  Each and every contribution is so helpful to the team and the players.  What we want to do here is celebrate the moments that went above and beyond the expectations the team has of any volunteer.  As we explore these stories, we all find how much this person has done for the team and how they helped us take the next step!  We do this as a way to honor the late john Crawford and to recognize these spectacular contributions.  Again, We thank every coach for their efforts and this is simply intended to spell out some amazing work!
Dana Vermilya and her John Crawford moment!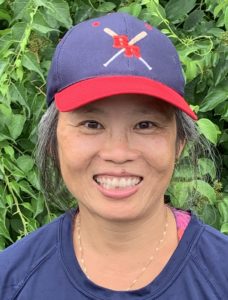 Our second honoree is Dana Vermilya.  Dana entered her 3rd season on the field with the Renegades in 2022.  On the field for the Renegades, Dana is  typically found working with our base runners and helping with defensive drills.  As a nurse at Brigham and Women's, she often comes to practice right after her shifts and her medical knowledge has helped our players on the field.  During the Peak of COVID she was working in the lung unit on the front lines as the world tried to figure out how to treat this illness.  Many of our decisions as a team surrounding COVID were run through her expertise.  Just as John Crawford did back in 2012, Dana had a big john Crawford moment with Rob "Hot Tub"  Thayer in 2022.
Hot Tub wants to go airborne and sky dive
On the way home from Albany in 2021,  a conversation between Rob Thayer and Dana began about weight loss.  When Rob first became a Renegade in 2011, his nickname was silent Bob because he rarely spoke.  Often very talkative, that nickname is long gone.  During this 4 hour trip  he discussed his desire to skydive.  Yes, Hot Tub wanted to go airborne.  He did not qualify because his weight checked in at 275 pounds.  The requirement to qualify for the jump is to be no more than 250.
Let's set the scene further here.  When Thayer joined the Renegades back in 2011, he was close to 400 pounds.  He credits playing on this squad as the main reason he has lost so much weight.  Every year he loses weight and then when the season ends, he ticks back up 10-15 pounds.  His weight has been pretty steady around 270 for the past few years.
Dana Buys in
Rob was actually going to be staying at the Carroll Center, In Newton in October, 2021.  Dana lives in Arlington and works in Boston.  Being closer geographically to Dana helped get things going.  They started with doing some long walks and built in hills.  Dana wanted to help get Rob's weight down, but she also wanted to help Rob with his base running.  In Dana's tenure with the team, Thayer had some of the worst base running stats as he lost 2 runs to missed bases in 11 balls put in play.  Dana could see this in practice as he often times veered away from the base.
During these walks and Rob's stay at the Caroll Center, They started talking about Rob's desire to get better on the field, to lose weight and also get off his medications.  Rob remembers, "Dana liked the fact, it was about my overall health and not just the skydiving".  She wanted to help.  As Fran did with Drew, Rob had to put in the time and effort to make her time worthwhile. 
Getting tougher and going to the Root cause
At one point, Rob was back in Easton, taking a break from the Carroll Center.  Dana came to Easton to work with Rob.  Working out at Rocky Marciano Stadium, named after the former heavy weight champ from 1952-1956 was the location of choice.  Dana soon discovered something Rob loved hearing.  Rob's propensity to miss bases was growing and there was some discussion on the team that maybe his hearing was not what it was.  While on the track at this stadium, Dana blindfolded Rob so she could watch his gait more carefully.  She discovered his right foot was leaning outwards.  They decided that during their walks, they needed to focus on changing his gait and his foot hoping this would improve his base running.
Through October – January, Dana got together with Rob once or twice a week at the Carrol Center to continue their walks.  At this point, Dana brought in cardio exercises and running but she did not stop there, she went deeper to the cause, food.  Dana reviewed everything Rob was eating and helped him identify harmful foods and introduced him to alternatives.  "I even found Quinoa", Thayer explained!
Dexcom installed
At this point, Thayer was also working with his doctors and they implanted a Dexcom into his arm.  This monitors a patient's blood sugar levels and sends alerts back to an app on our phones.  A great device that would surely help Rob.  He has had some moments with the team where his blood sugars were off and it was impacting his behavior without him knowing it.  As recently as the 2019 season in Tulsa, he had an episode on the bench where he started to struggle.  This struggle was discovered by his daughter Jess, who was watching on the live stream and called us to let us know he needed sugar because his glucose levels were low.  A huge win for the live stream (shout out to Joe Bourque & Jamie Dickerson for helping at that moment).
Dana became one of Rob's key contacts with this Dexcom.  She monitored his blood sugars and the Dexcom alerts.  One afternoon, Rob fell off the "good food" wagon as he was with some friends.  "I was drinking a slushie.  Dana called me because my numbers were spiking and she was concerned.  I told her I was drinking a slushie and I was ok.  She was happy to hear I was ok, but then told me to stop eating crappy food."
Results are in – Health
When Rob's stay at the Carroll Center was over, Dana traveled to Brockton once a week on Sundays to keep up the work outs.  This included weigh-ins.  One snowy Sunday morning in Brockton, Dana brought a friend with her to challenge Thayer's conditioning.  They stood on opposite ends of a basketball court with a blindfold covering Rob's eyes.  Running straight and getting into shape were the objectives.  After about 30 minutes of work, Rob felt a knot in his stomach.  He ran through it but then ran to the corner of the court and puked.  Dana offered him some water, took a moment and the two of them got back to working out despite the vomit.
By the time March rolled around, Rob had gotten his weight down to 240!  Dana rewarded him with a full size foam roller for his efforts.  Rob brings it to every practice!
The news got even better.  Rob went to see his Endocrinologist and amazed the medical staff with his measurements.  Rob's A1C had normally been around 11.  This measure came back at 5.8!  This allowed him to ditch the insulin which his body was reliant on since 2009.  He also dropped his blood pressure and Cholesterol meds.  This is life changing, especially for Thayer who hates being on medications.
Results are in – Beepball
At this point the season was about to start and Rob and Dana continued their work before practices.  Dana would leave the hospital after her shift, head to Target, change from scrubs into beepball clothes and the two of them would work out before the team arrived.  She checked his mobility, his range of motion and performed weigh-ins.
We all quickly saw that Rob was doing better because he was getting through warmups without needing to stop.  In prior years, warm ups often resulted in Thayer struggling to catch his breath.  He was often hanging on to a tree as his teammates warmed up with his hands on his knees.  With Dana's help, he was warming up without an issue for the first time in his 11 year career.
Rob's lines were better at practice due to the find and work they did on his gait.  This paid off on Long Island at the end of June.  Thayer got into a game against the Long Island Bombers and scored a pair of runs.  For just the second time in his 11 year career, Thayer scored multiple runs in a game.  The team erupted when this happened mainly because everyone knew the work that he and Dana had put in and loved seeing it pay off.  
By the time the world Series rolled around in late July, Rob was down to 230 pounds and his waist was 36 inches.  Tub had not seen this size since 1992!
The work continues
On August 4th, Rob made his jump from the plane.  His weight at that day was 225 pounds.  He achieved his goal of the jump.  He owes all of this to Dana Vermilya.  You can watch his jump here on our YouTube Channel.
A typical off season for Thayer has him pack about 10-15 pounds back on as he usually stops working out.  This winter he has maintained his weight at 230 with Dana's help!  Dana continues to check up with Rob every two weeks to keep him honest and hold him accountable.
Rob's time with the Renegades has been life changing.  This 400 pound man, sick with Diabetes and on hordes of medications and insulin has worked his way down to 230 pounds.  The Renegades gave him a reason to get into shape, but Dana was the one who pushed him over the edge to better health.  The hope is Rob can get his A1C low enough to lose his Diabetic status.  They are close!  He remains off of insulin to this day!   Dana is truly a hero to Rob and the Renegades. 
When asked what this work meant to Rob.  Our talkative Hot tub stammered for a second.  He then reverted back to Silent Bob.  After some prodding – he worked this out, "I appreciate you and your big heart and all the work you did to help me lose all the weight and medications which has made a dramatic improvement in my life".  Just as John Crawford did in 2012 with all of his help, Dana has gone above and beyond to help this Renegade improve his life!
If you missed our first honoree, Fran Regan- read about his contribution here
MORE TO COME………