Volunteering for the Renegades!
Volunteerism is something that brings a community together.  There is so much to be gained from volunteering.  For the people receiving the help, it can be essential to making their life easier or even helping them through a crisis.  For the people taking the time to volunteer, it can open their eyes and hearts to contribute to something bigger than themselves.
There is much to be learned from the art of giving.  Giving  money is one way to help people or organizations, but giving time is a more intimate way of volunteering.  Time is often something that many of us have don't have much of.  Between family, work, school, activities and obligations, finding time to volunteer can be a challenge.  Thankfully, the Renegades have had so many amazing and helpful people over the years.  Some volunteers have been with the team for 20+ seasons while others have only had the time for one season.  Each contribution is important and helps move the team in the right direction.
One thing making this team special is that each and every coach and volunteer is unpaid.  Not one person from the Association of Blind Citizens draws a paycheck.  We are a volunteer driven organization designed to just help others.  This is truly unique and special!
Nobody represents the heart and soul of volunteerism better than the late John Crawford.  John was a great friend to the Boston Renegades.  In a time of need, without knowing a single person on the squad, he stepped up to help us.
John's legacy
Back in 2012, our team was struggling to field team for the World Series.  We were down a volunteer and needed help.  For the first and only time in our 22 years, the NBBA World Series provided host families.  Ames, Iowa showed how philanthropic and giving the community is.  Due to our circumstances, we needed a host family who provide help on the field.  Without this, we were considering not attending for the first time ever.  We urgently requested help. We needed someone young and strong enough to help us warm up in the morning before our games.  Enter the Crawford family.  John took the week off from work to be a Renegade.
Initially, we were only hoping for a few hours of his day in the morning.  He blew us all away and went the distance.  John helped warm up the defense at 7:00 am, set up the bench, ran the on deck circle, helped guys get drinks and to the bathrooms.  He spent every minute of every day on the field with us.  Due to the draught in Iowa that summer, the grass on the field was burned and the days were often 8-12 hours long.  We even played our highest scoring game in team history falling to the Chicago Comets 31-21 in four hour game.
John gave us pep talks, showed us around town, picked up paint and water and even took our filthy uniforms home to be cleaned.  He completely blew us away.  His love for this team didn't stop there.  Using his professional skills, he helped re-design our marketing brochures and then donated them to us after the season.  John lost a battle with cancer on February 11, 2021 and he will never be forgotten.  We wrote this tribute to him.
The John Crawford moments
To honor his memory, we are going to start a new Renegade tradition.  We will call it the John Crawford moments.  Each year, we will highlight moments where a volunteer on the Renegades stepped up and went above and beyond our expectations just like John did during that summer of 2012, almost ten years ago.  It is important to note that we have a lot of amazing volunteers on the team.  Some volunteers have been with the squad for 20+ years.  Some spend countless hours every year with the team traveling around the country and taking time away from their families and work.  We truly thank every person who has ever stepped on to the practice field with the team or helped us on the back end of the organization.  We recognize those efforts every day.
This award is really about honoring John and his legacy.  Our goal is to call out moments that make us collectively say "WOW, that was unexpected and that changes things big time!"…..just like we did at the end if that long week in Ames in 2012.
Our initial recipients of this award will be laid out here as we approach the end of the calendar year.  This will be arranged in some sort of Chronological order as to when the impact started.  None of these moments are bigger than the other.  Again, this is just a way of saying "WOW" and remembering the time with John in 2012 (John was the first ever Renegade volunteer to become an angel in our outfield when he passed in 2021).
Fran Regan and his John Crawford moments!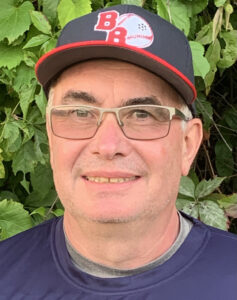 Our first honoree of the John Crawford is a guy who joined the Renegades late in the 2021 season.  While attending a Woo- Sox game with his daughter he had no idea he would shortly be roped into helping her play beep baseball.  Fran Regan blew us away in 2022!
When Fran joined the team, he was recruited to help because his professional skills could really help the Renegades immediately.  Initially he was concerned that he may not want to use his physical therapy background to help.  He didn't know anyone; he didn't know the culture and was unsure if he wanted to stick his neck out.  By the time the 2021 season ended, he was all in.
Ownership
During the off season, Weissman and Regan chatted about his experience and what he wanted to do, what he enjoyed and what we could do better.  Right out of the gate he wanted to help.  With Seth Cutler and Alasdair Fletcher off at college, the Renegades had lost two amazing base running coaches.  Fran volunteered to own it.  On his own, he created new drills.  He bought equipment, tested it, and brought it to winter cage work outs all on his own dime and time.  He continued to make it better.  By mid-season, his equipment was in heavy use at practice and he changed the way our running stations worked.
Shayne Cantan, who spent the 2022 season commuting from Philadelphia worked with Fran in July for one of the first times.  He came out of the station soaked in sweat.  He said to Weissman, "it was one of the best work outs he had ever had at practice." This new drill Fran had devised was really hard and it "sucked…but he loved every second of how hard it was because it was going to make him better." (Shayne had the second best season of his eight year career.)
Melissa Hoyt, who has historically struggled at times with her energy levels due to health issues had this to say: "Fran helping with running has been great for the Renegades. For me personally running uses the most energy out of all we do and I appreciate that in time he recognized and validated that my experiment with not running at the start of practice was indeed helping me have more energy the rest of practice. I further appreciate his bringing new tools to the team to try and his willingness to meet us where we are and simultaneously get the best from us."
Helping Drew
On a more personal level, he asked the players which ones wanted to really work during the off season.  Drew Crook was the only Renegade who took him up on his offer.  Drew was hurt during the 2019 season and only had 17 at bats as he re-injured a hamstring on the first day of the World Series.  In 2021, he got hurt in practice and only had two at bats the whole season.  Drew travels to practice from Manchester, NH and was tired of the high mileage and not being able to stay on the field.   He did not know what to do to get his legs into shape after injuries two straight years.  He needed a change.  Enter Fran Regan.
Fran took Drew under his wing and ultimately helped him both physically and emotionally to both rehab the body, understand the root cause of the issues and be a sounding board all season long to bounce ideas off of and get feedback.  They started with basic exercises and then built upon them once a foundation was solid.  Fran drove to Drew's house (roughly 150 miles round trip) to work with him one on one to make sure Drew understood the exercises and they could work together.  He even lent Drew equipment to help him stay active during the work day and between practices to help him keep his legs in shape.  At practice all spring and summer, Fran checked in on Drew, stretched him and adjusted their routines based on how he was feeling at the moment.
Drew has this to say, "Fran's dedication to our team and to me personally directly resulting in our team being smarter with our rehab but also my own personal growth with dealing with injuries.  This is invaluable to us and to me.  Without his help, I'm not sure I would have been as available on the field as I was in 2022 because the prior two season I was unable to play without getting hurt"
Drew's Results
We all knew if Drew could stay healthy, he has one of the biggest bats in the league.  We just needed a way to keep him healthy so we could get him some experience.  Things started slow for him in Long Island where he was 2-7 in two games played, but he made his first two defensive stops of his career against one of the biggest bats in east coast history – Scott Hogwood.  With the wet fields in Philly, we played it safe with his legs and he went 1-4 in his two games.  However, a valuable lesson was learned.  Every game Drew played; his confidence grew.  His confidence grew in his ability to contribute but it also grew in his confidence to stay healthy.
At the World Series, Crook to turned heads with multiple bombs flying long past the 170 line.  He hit some of the furthest shots in Renegade history.  He also played in 7 games and hit .471 with an 8-17 showing while striking out just twice on the week.  Confidence did this.  Fran played a huge role in giving him the confidence that he can stay healthy.  Fran gave him confidence he could get into condition to not only play beepball, but to help him lead a healthier life off the field for his three kids!
Next steps
Fran's legacy does not stop there.  Shayne Cantan has been working with Fran this off season.  "The day after the [2022] World Series Fran asked who wanted to work off season, I took him up on that, and 2 days later he made me both a diet and workout plan.  Immediately I lost 15 pounds, I gained a few pounds back because of the holidays, but nowhere near what it would be without Fran on my side, he even hooked me up with a kettle bell to help me with conditioning.    I saw what he did for Drew last off-season, and I wanted that same production."
Fran has blown us away.  When he first joined the team, he was unsure how he could help.  In less than a year, he changed the mindset of Drew and so many of the players on the team.  Having Fran had a ripple down effect.  Mike Marciello was freed up to attempt modifying his role to become a player/coach.  It also allowed our medical staff the ability to discuss a plan together on how to best help our players!  Just as John Crawford did in 2012, Fran blew us away. This was one of our John Crawford moments!
MORE TO COME…….