Its a new year and we hope 2014 is as good to the Renegades as 2013.  What a season we had!  We played some great ball.  We had 4 new rookies join us for the season.  We signed and trained 9 new coaches.  We returned to Chicago for the first time in a few years.  fans got many chances to see our award winning documentary.  So many things happened this season that its hard to think of the best moments.  Well, in the spirit of New Years, I took a stab at the moments I thought were the most memorable.  Events we would talk about for years to come.  Moments that surprised us, moments where we cheered.  It was hard to pick 10..and there were plenty of worthy ones that were left off this list.  Lets dig in…and feel free to let us know if there was a moment you thought should be on this list!
#10 Syphers delivers
In the fall of 2012, we found Tim and he came down to try beepball out with Joe Mac, Guy and Myself.  I even threw to him some BP.  I could see he had a swing that could make our starting line up.  When the season started, Tim was hurt.  Taking aggressive BP hurt his legs and he ended up at the emergency room after one practice.  He spent the whole season on the shelf…but he came to many practices to learn.  We took him to the World Series with hopes he could get a taste of the sport and maybe contribute.  In his third at-bat, he came to the plate against the Chicago Comets and hit a hard shot down the first base line scoring his first run of his career.  It's always fun to see players score their first, but for Tim it was rewarding to see him score after not being able to run all year long with shin injuries.
#9 Wrong Way gets it right
In his 11th year as a Renegade, Joey "Wrong Way" Buizon finally put it all together.  Our career leader in strike outs (128 going into the 2013 season while striking out  43% of the time) worked very hard this season.  He lost his pregnant belly, he got great coaching to help him run straighter from Lisa Andrews and Lisa Klinkenberg, he eliminated his flop and crawl base running technique…and he learned patience at the plate.  In Chicago he made the Bolingbrook All star offensive team going 10-15 with zero strike outs off his pitcher, Ron Cochran.  He was just the third player to make the offensive All-star team at this tournament in Renegade history.
#8 Guy Adjusts
A Coaching moment I enjoyed happened on the drive to the fields on the second day of the World Series.  In the Car with me was Aqil and Guy whom I had advice for on their swings.  Guy was 3-11 on the first day and not hitting the ball well.  I had analyzied his swings from the prior day and I felt he was rolling his wrists too much causing grounders.  We talked about what this meant and he gave it some thought.  The first game he played that day was against the Southwest Slammers.  Guy took the advice, made a change and went 4-4 with some good power.  his performance helped propel us over the Slammers as he also made 5 stops in the field on the way to his second Defensive all-star team.  All tournament, we would be yelling "Ubersense" at each other for the coaching moment!
#7 Stars take the stage at home
On an April night in Boston, National Braile Press hosted an event for the Renegades and we showed the Boston premiere of our documentary made by Best Ever Dog Films. What an amazing night many of us hoped would not end.  during the movie, the fans were cheering when our team won on the screen…that was so cool.  the venue was amazing and it was awesome to be a guest of an event like this run by professionals.  We raised about $9,000 for the team but had so much fun listening to the crowd, sharing the film and answering questions.  Heck, I even wore a sport coat for the event. this may have been the only happy time I wore a sport coat all year long.
#6 Aqil walks off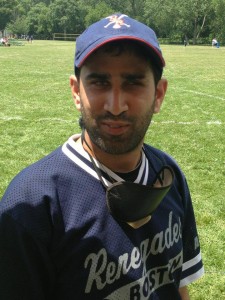 In a match up against the New Jersey Lightning our team was not hitting.  The Lightning had a brand new pitcher on the mound who had struck out 10 of the 18 hitters she faced.  Even though we had just scored 15 runs in the previous game, the score was knotted at 3 a piece.  Ron and I had the same idea when he came to the plate in the last inning…take Aqil to the right side.  On the second pitch, he roped a shot to right field and scored the winning run at first base.  During the lunch break, Aqil told me it was such an amazing moment for him that the adrenaline was still running through his veins.  It was his first walk off hit and the only walk off hit for the Gades in the 2013 season.
#5 Thayer makes a stop
Rob Thayer travels further than any other Renegade to get to practice.  Sometimes he spends 3 hours traveling back and forth to practices.  He works hard and gives the game his all..and it does not come easy for the big fella.  We worked very hard in the 2nd half of the season with our players at making plays hit right at them.  Rob entered the game against the Tyler Tigers.  In the 4th inning of a 9-0 lead, Tyler's John Ingram lofted a fly ball toward first base where Rob was playing. Thayer hit the ground as he had thousands of times in Watertown.  His footwork was impeccable and his timing was perfect.  He made the stop and seeing his smile was a highlight for all of the coaches who were there and for every coach on the team when they heard the story.  It was the first defensive stop in his three year career.
#4 Ten Run inning against North Carolina
In the first game of the Long Island Classic, Boston would take on the Carolina Warriors.  We knew this was going to be a tough game as they had an all star pitcher in Tim Hibner throwing for them.  Heading into the 2nd inning we were down 3-2 when the bats went crazy.  Rob Thayer led off with line drive to the left side for an out.  Joe Mac would score (1) on a grounder up the middle.  Larry would score (2) on a grounder to the left side. Wrong Way Buizon would hit the beep out of the ball and then after a fresh count would score (3) on a grounder to the right side.  Guy would hit a line shot up the middle and score (4) , Aqil followed with agrounder up the middle where he was put out.  Rob would come up for the 2nd time and hit a line drive down the third base line, miss the base and still score (5), Mac would plate his 2nd run (6) of the inning on a pop fly up the middle.  Larry would score his 2nd run (7) on a pop fly to left field.  Buizon would have another issue …this time a late base call would allow him a fresh count and a scoring grounder (8) up the middle.  Guy  and Aqil would both plate line drives (9-10) up the middle before Rob would make his 2nd out of the inning on a pop out up the middle.  In the end it was 13 balls in play and 10 run scoring hits.  This was the 2nd largest output we have had in an inning behind the 11 runs we scored in the 1st inning in the 2007 World Series against Stockton.
#3 We LOVE Pam
Pam Love had wowed us at practice all year with her defense.  This former fast pitch softball player can move on the field and pick up the ball like any all star.  The Long Island Bombers found this out in our game against them at the Long Island Classic.  It started in the 1st inning as she made an amazing stop on a ball crushed down the first base line off the bat of Jim Hughes to give us the 3rd out of the inning.  She then stopped their fastest player, Jose Dejesus twice in the 2nd and 3rd innings.  Her three stops led the Renegades in this match and propelled us to an 8-6 victory and eventually an undefeated record in this tournament.  These were three of her 4 stops on the year and was one of the best performances for a rookie defender in Renegade history.
#2 The Hall of Fame Calls
A life time dream came true for a few of us.  Our documentary was honored and shown at the baseball hallof fame film festival.  A small crew of us went to Cooperstown for the weekend and took part in the festivities.  Our film was well received, we answered a bunch of questions from the crowd. We got a special tour of the facility and in the end our film was archived in the baseball hall of fame archives.  To be part of baseball history for a few hours was a huge honor and I took huge pride in being part of this opportunity with two guys who have been with me since I started coaching…Bryan Grillo and Ron Cochran.  Many thanks to Jack Clancy and Liz Clancy Lerner for making such a tremendous film and telling our story.  These two people made us into movie stars and helped us all become hall of famers for a few hours!  Click here if you want to read more about this amazing experience.
#1 The Shot heard around the World
The Woburn Lions hosted a spectacular event with us at the Showcase Cinema in Woburn.  Nearly 200 people joined us to watch our movie from Best Ever Dog Films and we raised over $9,000 to help the Renegades.  It was an amazing crowd that asked a lot of great questions…..but after the event was supposed to be over, I asked everyone to stay seated for a special film.  In that 50 second film, I shocked everyone in attendance and proposed to my girlfriend of nearly 4 years.  When the film was over, I was on one knee with a ring.  Bianca said yes and the house came down!  Within seconds our world was shocked.  I had urged so many friends and family to be there to share the movie with us…but I did not tell them I had been planning this "trick"  for months.  To share this moment with so many people from all parts of my life was a true joy and a moment neither of us will ever forget for the rest of our lives.  It was a story book ending to an amazing day at the movie theaters!