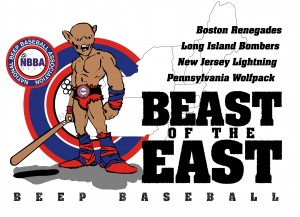 What is the Beast of the East?  Its when Beep ball teams from the East coast get together for a multi-city tournament to decide who is the best team on the East Coast.  This year, the host cities are in East Meadow, NY on the 28th of June and Haddonfield, NJ (home of the Pennsylvania Wolfpack) on the 12th of July.  Four teams will face off in each of these sites and the team with the best record when its over will be crowned the Beast of the East.
The winner will be determined by the following rules
Team with the best overall record in the 6 games
If there is a tie
Tie breaker #1: head to head between teams tied
Tie breaker #2: Head to head in previous season including the World Series
Tie breaker #3: Lowest defensive runs allowed – head to head
Tie breaker #4 Lowest defensive runs allowed in entire Beast of the East
One of the missions to this concept is to build beep baseball on the east coast.  We have purposely decided  we will discourage teams inviting players from other cities to play with them because we want to provide opportunity for local players.  This will be the fourth season we have done this format.  The Renegades have won it the first three times
| | | |
| --- | --- | --- |
| Year | Champion | Record |
| 2010 | Boston Renegades | 6-1 |
| 2011 | Boston Renegades | 7-1 |
| 2012 | Boston Renegades | 6-1 |
In the 2014 season, All the teams have begun play other than the Renegades.  The Long Island Bombers are 3-1, The Wolfpack are 1-1 and the New Jersey Lightning are 1-3.  Boston has done very well in recent years.  Here is their record against opponents life time and since 2010.  Can the Renegade repeat?
| | | |
| --- | --- | --- |
| Opponent | Renegade lifetime record | Renegade record since 2010 |
| Long Island | 12-11 | 9-2 |
| Pennsylvania | 17-3 | 8-0 |
| New Jersey | 6-2 | 6-2 |
Keep your eyes on Facebook on Saturday afternoon as we will be posting live game updates to keep our fans informed.  The game schedule is as follows:
Game 1 at 9:00 AM
New Jersey Lightning vs.
Long Island Bombers
Pennsylvania Wolfpackvs.
Boston Renegades
Game 2 at 11:30 AM
Boston Renegades vs
Long Island Bombers
New Jersey Lightning vs
Pennsylvania Wolfpack
 Game 3 at 2:00 PM
Boston Renegades vs
New Jersey Lightning
Pennsylvania Wolfpack vs
Long Island Bombers